On Sundays, as I may have mentioned before, we usually do dinner at my mom's house. She doesn't eat meat, so we either go vegetarian (which isn't often because my husband doesn't think a meal is a meal if it doesn't involve some kind of something that was killed - sorry, it's true, what can I say?), or we do a fish dish. The old stand-by is grilled marinated fish, but because this past Sunday we were celebrating my sister-in-law's much belated birthday (sorry Irene!), I wanted to do something a little different.
I found this recipe in my
Whole Foods Market Cookbook
, which is full of fresh, flavorful recipes. I've made quite a few things from this book so far and have enjoyed most all of them.
So today I share with you stuffed swordfish. This dish was very Mediterranean in nature, starring pine nuts, sun-dried tomatoes, Parmesan and garlic. You could easily stuff chicken breasts, tuna or salmon fillets, pork chops or even make steak roulades (fancy!) with this filling. The fish gets marinated first and then stuffed before going under the broiler. A pocket is easily made with a sharp paring knife, although as you'll see my pockets came out a little large. Oh well, it still tasted good. I'll also preface this with saying, raw fish DOES NOT photograph well. Or at least it didn't for me. Plus I was working with some pretty poor indoor lighting. Ok now that I've made excuses for my photos, you can move on. This dish was healthy, light and fresh. Enjoy!
Swordfish Stuffed With Spinach and Sun-Dried Tomatoes
Source:
Whole Foods Market Cookbook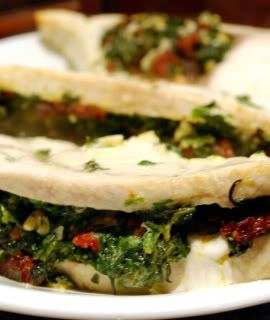 The Marinade
1/8 cup extra virgin olive oil
1/4 cup dry white wine
2 cloves garlic, minced
1 teaspoon Dijon mustard
freshly ground pepper to taste
2 pounds fresh swordfish cut into 4 steaks, 1 and 1/2 to 2 in. thick
The Filling
1/2 cup chopped sun-dried tomatoes packed in oil
1/8 cup capers (I left these out because lately when I've had them I realize they taste like Pine-sol and therefore ruin my meal. So go with what your palate says here.)
2 cloves garlic, minced
2 cups chopped fresh and washed spinach (I used a 10-oz box of frozen chopped spinach)
2 tablespoons pine nuts
1/4 cup Parmesan cheese (this was my addition)
1/4 cup chopped parsley
salt and pepper to taste
To prepare the marinade, mix the olive oil, white wine, garlic, mustard and pepper in a bowl. Add your swordfish steaks and marinate for about an hour, turning once.
To prepare the spinach filling mix the sun-dried tomatoes, capers, garlic, spinach, pine nuts, parsley, Parmesan if using, salt and pepper in a small bowl.
Preheat the broiler. Remove your fish from the marinade and place it on a broiling pan that you've covered with foil. Cut a horizontal slit in the center of each piece of fish without going through to the other side. You should now have a small pocket for filling (or a large gaping hole if you're me and can't work with a knife). Stuff each pocket with your spinach mixture.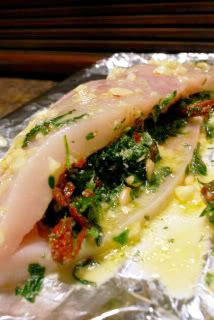 Line them up on the broiler pan, cover with any leftover marinade and place them in the broiler.
Cook for 4 to 5 minutes on each side. Remove from the broiler and sprinkle with some fresh chopped parsley and serve.