That's what I call my big orange bundle of joy, Sawyer. Probably because he's a 15-pound orange tabby so he looks like a pumpkin. I don't really know where the "lips" part comes in. It just slipped out one day while I was cooing to him, "Oh who's the cutest baby kitty ever? My sweet pumpkin lips that's who!" Yes people, I sound like an idiot when I talk to my cat.
Anyway! Ever since that first time, it's stuck.
His name is no more appropriate than in the fall when pumpkins are all around. Although, close to Thanksgiving I do tend to call him my Thanksgiving turkey. Yes - this cat has a ridiculous number of nicknames thanks to my husband and I.
So this past weekend I made two pumpkin recipes, in honor of fall and my sweet pumpkin lips!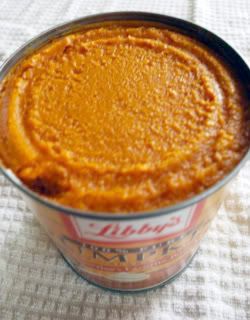 I obtained both these recipes from fellow bloggers. The Pumpkin White Chocolate Blondies are from Cate at
Fresh From Cate's Kitchen
. Originally when I saw this recipe I thought I would maybe substitute some ripe banana puree I had for the pumpkin puree and then top the blondies with a caramel drizzle. However, the thought of the pumpkin and chocolate combo had me truly mesmerized- as pumpkin and chocolate are two of my favorite things. And since I wanted to bring the finished product to a party I figured why mess with perfection. So I baked them as is. The only substitute I made was vanilla vodka for vanilla extract. I had no extract on hand and the vanilla beans I did have on hand had completely dried up. I did have vanilla vodka in the fridge, leftover from apple cider martinis (Yum!), so I used two teaspoons of that and it worked fine.
These were moist, flavorful and gooey. Enjoy!
Pumpkin White Chocolate Blondies
2 cups all-purpose flour (spooned and leveled)
1 tablespoon pumpkin-pie spice
1 teaspoon baking soda
3/4 teaspoon salt
1 cup (2 sticks) unsalted butter, room temperature
1 1/4 cups sugar
1 large egg
2 teaspoons vanilla extract
1 cup canned pumpkin puree
1 package (12 ounces) white chocolate chips
Preheat oven to 350 degrees.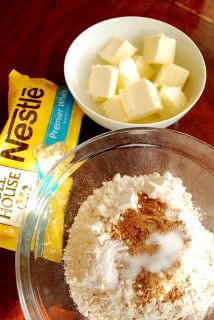 Line bottom and sides of a 9-by-13-inch baking pan with foil, leaving an overhang on all sides.
In a medium bowl, whisk together flour, pie spice, baking soda, and salt; set aside.
With an electric mixer, cream butter and sugar on medium-high speed until smooth; beat in egg and vanilla until combined. Beat in pumpkin puree (mixture may appear curdled). Reduce speed to low, and mix in dry ingredients until just combined. Fold in chocolate chips.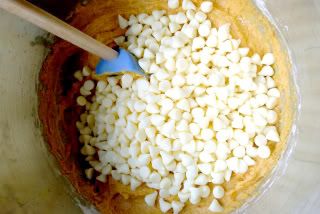 Spread batter evenly in prepared pan.
Bake until edges begin to pull away from sides of pan and a toothpick inserted in center comes out with just a few moist crumbs attached, 30 to 40 minutes. Cool completely in pan.
Lift cake from pan (using foil as an aid). Peel off foil, and use a serrated knife to cut into squares.
The second recipe, which I made for breakfast on Saturday morning accompanied by crispy bacon, was Pumpkin Pancakes from
The Way The Cookie Crumbles
. I loved that Bridget had already done all the testing on pumpkin pancakes. I'm not much of a baker - yes, to me pancakes are considered baking - and so I want something that is tried and true. Baking takes time, it's hard to fix if you screw it up and so I don't want to spend time on something that isn't worth it. Or calories either for that matter. I've always found good ideas on Bridget's blog so I completely trusted her judgement that this was the best pumpkin pancake recipe around. I'm happy to report she was right! These were easy to put together from scratch, moist, super flavorful and cooked up fluffy and light. These are going on the shortlist of go-to recipes for easy, homemade breakfasts. I also appreciated that the recipe was written for 2-3 servings. Most pancake recipes seem to be written to serve a firehouse! This was definitely the Goldilocks of pancake recipes - just right.
I also loved that it used buttermilk.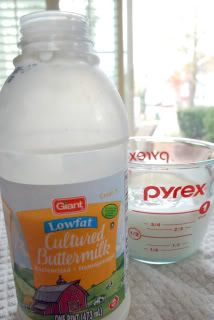 Ever since I was a little girl and read Laura Ingalls Wilder, I have romanticized the idea of buttermilk. They always made it sound so good. They ate it with cornbread, it soothed them if they couldn't go to sleep. For some reason, the name just brings me back to the prairie - ahh that I never grew up on. It just makes me think of farms and old-fashioned churning and real down-home food. So the fact that these were Buttermilk Pumpkin Pancakes just made them sound soothing and comforting. Does anyone else have this obsession with buttermilk? There's just something about that word that rolls off the tongue and sounds as comforting as a pillow. Anyway...here's the recipe.
Pumpkin Pancakes
Serves 2-3
1 cup (5 ounces) flour
1 tablespoon brown sugar
1 teaspoon baking powder
½ teaspoon baking soda
½ teaspoon salt
½ teaspoon cinnamon
¼ teaspoon allspice
¼ nutmeg
1 egg
2 tablespoons butter, melted and cooled
½ cup pumpkin
1 cup buttermilk
vegetable oil for the pan
1. In a large mixing bowl, stir together the flour, sugar, baking powder, baking soda, salt and spices.
In a separate mixing bowl, whisk the egg until thoroughly combined, then add the butter, pumpkin, and buttermilk. Pour the liquid ingredients into the dry ingredients and whisk gently until batter is mostly mixed but still contains small lumps. Let batter rest while pan heats, at least 5 minutes.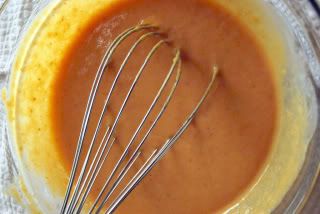 2. Heat non-stick skillet or griddle over medium heat. Add a few drops of oil and spread it over the bottom of the pan. Using a ¼ cup measure, pour pancake batter onto hot griddle.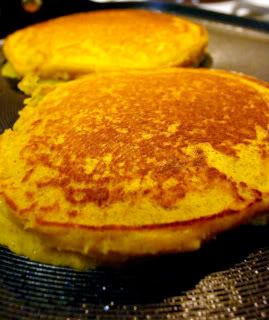 When pancake is golden brown, flip to cook other side. Keep warm in oven heated to 275 degrees. Serve warm with lots of butter and syrup.