WOW!!! I can't believe I've finally hit 100 posts. I've only been blogging for a few short months now and I have already learned so much about my own cooking skills and expanded my culinary knowledge 10-fold. It's been a much more rewarding experience in so many ways than I could have ever realized. I do get made fun of mercilessly by various people for being a "blogger", but no matter. I keep on plugging away! Sticks and stones may break my Pyrex baking dishes, but names will never stop me! No, I know they are just teasing me and probably think I'm a colossal dork, but I just truly love cooking and sharing my experiences in the kitchen. It brings me joy.
And so do pancakes, which brings me to last week's
Barefoot Bloggers
recipe, Banana Sour Cream Pancakes. Now I've made homemade pancakes before and I have to say these weren't my favorite. I love the banana flavor - and I even added chopped pecans to my batter, but I found the batter very runny and the pancakes extremely dense. I don't know if my baking powder has lost it's vim and verve, or it's just the recipe. I even lightened it up by using skim milk and light sour cream. Still I found these to be quite dense in texture. I like my pancakes light and fluffy (I'm truly a Bisquick girl at heart) and these didn't really deliver. The flavor was spot on though. But I think that had more to do with my perfectly ripe bananas. Either way, here are my results. I don't think I'll be making these again however.
Banana Sour Cream Pancakes
source: Ina Garten, Barefoot Contessa, www.foodnetwork.com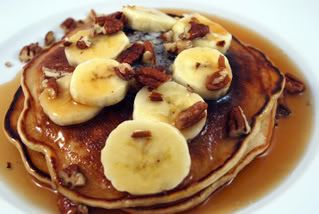 1 1/2 cups flour
3 tablespoons sugar
2 teaspoons baking powder
1 1/2 teaspoons kosher salt
1/2 cup sour cream
3/4 cup plus 1 tablespoon milk
2 extra-large eggs
1 teaspoon pure vanilla extract
1 teaspoon grated lemon zest
Unsalted butter
2 ripe bananas, diced, plus extra for serving
Pure maple syrup
Sift together the flour, sugar, baking powder, and salt. In a separate bowl, whisk together the sour cream, milk, eggs, vanilla, and lemon zest. Add the wet ingredients to the dry ones, mixing only until combined.
Melt 1 tablespoon of butter in a large skillet over medium-low heat until it bubbles. Ladle the pancake batter into the pan to make 3 or 4 pancakes. Distribute a rounded tablespoon of bananas on each pancake. Cook for 2 to 3 minutes, until bubbles appear on top and the underside is nicely browned. Flip the pancakes and then cook for another minute until browned. Wipe out the pan with a paper towel, add more butter to the pan, and continue cooking pancakes until all the batter is used. Serve with sliced bananas, butter and maple syrup.