The latest version of Gourmet Magazine was all about Italian comfort foods. Flipping through it just made me yearn for all things carby, tomatoey and meaty. Mmmmmm. But, as the holidays would have it, my hips really don't need anything carby. While I love a big bowl of pasta as much as the next girl, I try to eat it sparingly. I also felt like my husband and I needed to get in our veggies and greens after not only a holiday of eating eating eating, but in January it is my dad's birthday and then Sunday football games. So...yeah, the junk food track extends into the first few weeks of January..at least.
With that in mind, I chose this hearty
Winter Minestrone
. I also submitted it to
Joelen's Culinary Adventures
Foodie Films: Big Night contest.
Packed with nutrient rich greens, escarole, cabbage and chard, it made for a vitamin-packed punch. On top of that, the pancetta, sauteed garlic and onions and parmesean rind add to the salty, smokey flavor of this soup.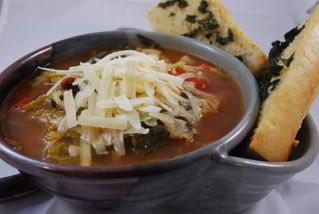 (As a side note, isn't this bowl great? It has a place for your crackers or bread? It was a wedding gift from my friend Kiron. Love it!)
I was worried it would be bland since the stock consists solely of water and whatever juice comes from the tomatoes. In most soups you see chicken or beef or vegetable stock being used. No matter though - this soup was as tasty as could be. In fact, using stock would probably make it too salty or take away from the tomato flavor.

One word of caution
: this recipes makes A TON of soup. We're talking soup kitchen, feed-an-army size here. It was almost quite amazing how much soup it made! I just kept filling tupperware containers when we were done. I served it with a basil parmesan garlic bread. It was truly the perfect winter meal - and it even had a little bit of pasta in it to satisfy the need for some comforting carbs.