Well, Christmas 2008 is over. It was a whirlwind holiday that seemed to pass quicker than any in previous years. Why? I really don't know. Probably because I'm getting older and starting to say things like, "Where has the time gone? I remember just yesterday..." Over the holiday, I saw children I used to babysit for and pulled out that old line I never thought I'd use, "I remember when you were this big!". I know they don't care and they just roll their eyes, but I still can't help but let these words escape my lips! Oh well.
So to say farewell to the holiday season yet again, here is one last holiday recipe along with a few pictures of our poor tortured cats who we dressed in a santa suit.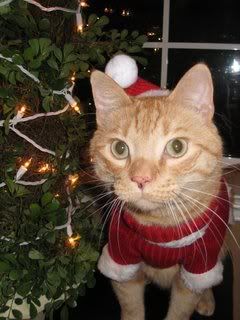 This is Sawyer, our ham. He's such a good model!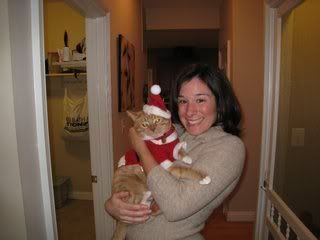 This is Darby, who doesn't ever sit still, so I had to hold him for a photo.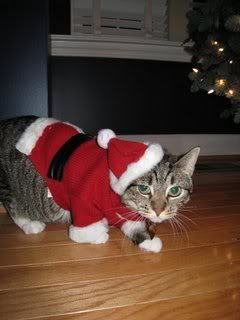 This is Mia. She is sneaking toward the tree to put out presents :)
And for your culinary pleasure, an
Eggnog Cheesecake with a Gingersnap Cookie Crust
. I baked this for the final holiday get together of the season for me, which was on Saturday. My aunt had a dinner party with about 20 guests. This cheesecake was a hit. Someone even asked me if I baked it in a water bath because it was so light and fluffy. I didn't.
I found the recipe online and it was perfect. So stockpile this one away for Christmas 2009. It'll be here before you know it because, as I seem to always be saying nowadays, time really flies!
Also, excuse the poor photos. I had to snap them quickly before my aunt laid the cake on the table. Then I had to snap a quick one of the last piece before it was gone!
Eggnog Cheesecake with Gingersnap Crust
source: Southern Living, October 2007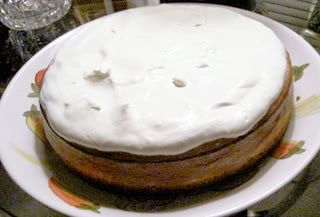 12 ounces gingersnaps (about 48 cookies), finely ground
1/4 cup sugar
1/4 cup melted butter
32 ounces 1/3-less-fat cream cheese (I used FULL FAT cream cheese because I wouldn't bake a cheesecake with anything less. It's a cheesecake, not diet food!)
4 large eggs
2 cups refrigerated or canned eggnog, divided
2 cups powdered sugar
2 tablespoons all-purpose flour
1 cup whipping cream
Garnish: freshly grated nutmeg
Preparation
Stir together first 3 ingredients; press mixture onto bottom of a 10-inch springform pan.
Beat cream cheese at medium speed with an electric mixer until smooth; add eggs, 1 at a time, beating until blended after each addition. Add 1 1/2 cups eggnog, and beat until blended. Fold in 2 cups powdered sugar and 2 Tbsp. flour; carefully pour cream cheese mixture into prepared pan.
Bake at 325° for 1 hour. Turn off oven. Let cheesecake stand in oven, with door closed, 1 hour. Remove to wire rack, and let cool completely. Cover and chill at least 8 hours.
Beat whipping cream at high speed with an electric mixer until stiff peaks form; fold in remaining 1/2 cup eggnog. Spread mixture evenly over top of chilled cheesecake, and garnish, if desired.