I know I saw a version of this on a few blogs here and there. It sounded so good, so this weekend, since we were pretty much stuck at home cause of my husband's ankle surgery, I spent Saturday making homemade marinara and manicotti. No I didn't make the manicotti crepes myself. That was a little too involved, but I did make the filling from scratch of course and let my homemade sauce simmer on the stove for 3 hours.
The end result was delicious!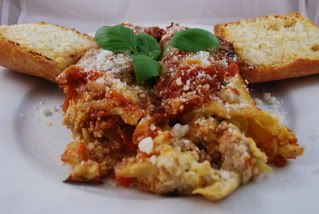 And it made plenty to feed my laid-up hubby lunch for a few days this week. So here's my version of this dish. Enjoy!
Turkey Artichoke Manicotti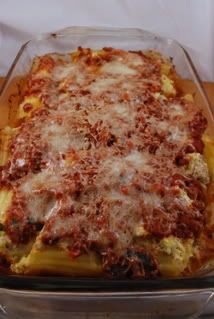 1/2 package of ground turkey breast (I prefer the darker meat, stays moister)
1/2 onion
2 cloves of garlic, chopped
1/2 teaspoon crushed red pepper flakes
1 tablespoon olive oil
1 1/2 cups ricotta cheese
1 cup shredded mozzerella cheese
1/2 cup grated romano cheese
1 12-oz can artichoke hearts, chopped
sprinkle of oregano
small handful of chopped fresh basil leaves
1 egg, beaten
salt and pepper
8 manicotti shells, cooked according to package directions, drained and cooled
4 cups homemade marinara sauce (recipe below)
Preheat oven to 375 degrees.
In a skillet, brown your turkey meat along with the garlic, onions, red pepper flakes and olive oil. Once browned, remove and set aside to cool. In a bowl combine the ricotta cheese, 1/2 cup of the mozzarella, romano and chopped artichoke hearts. Mix in your oregano and basil as well. Season with salt and pepper. Add your cooled turkey and onion mixture, mix well. Stir in your beaten egg and mix till combined evenly.
Prepare a large baking dish by covering the bottom with 2 cups of your sauce. Fill your manicotti pasta tubes with about 3 to 4 tablespoons of mixture, whatever you can squeeze in really. Lay them down in the pan on top of the sauce. If you have leftover mixture (which I did), just drop it in spoonfuls over top of your filled manicotti shells. It'll get eaten somehow in the whole mix!
Next top the filled shells with the rest of your marinara sauce. Then sprinkle generously with the remaining shredded mozzarella - you can go ahead and add more, I won't tell :)
Finally cover the dish with foil and place it in the oven. If you aren't ready to bake you can also freeze or refrigerate it at this point. Just make sure to completely thaw or bring it back to room temperature before you bake it. Anyway, where were we....oh right...so after about 30 minutes of baking it covered, remove the foil and allow it to bake for another 10-15 minutes to bake your cheese on top.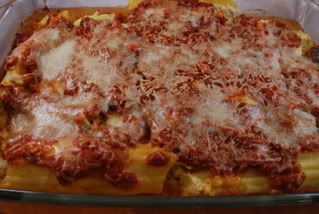 Remove, let cool a bit and enjoy with some crusty garlic bread.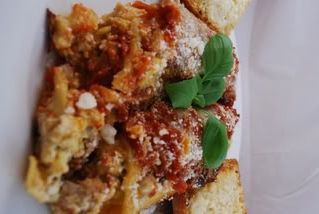 Homemade Marinara Sauce
1 32-ounce can of whole peeled tomatoes, pureed in a food processor
4 tablespoons olive oil
1 red pepper, diced
1/2 onion, grated
4 cloves garlic, chopped
1/2 tablespoon anchovy paste
2 tablespoons tomato paste
1/2 teaspoon sea salt (I don't like to add a lot of sauce because I feel you get that from the romano cheese you sprinkle on at the end.)
1/2 cup dry red wine (I think I actually added a bit more, but you probably don't need more than that to get the flavor.)
1/2 cup beef stock
1 cup water (you can add less depending on how much sauce you need or how thick or thin you want it)
2 pinches of sugar (I didn't measure! I just pinched, tasted, pinched again, tasted and it was good. Sorry)
1 bay leave
a small handful of fresh chopped basil leaves
In a medium stockpot heat your olive oil. Throw in your finely chopped red pepper, your grated onion with the juices and your chopped garlic. Saute until the mixture is soft and tender. Next, add your anchovy paste, tomato paste and salt and mix in well. Once incorporated, add your red wine. Let it cook for about 3 minutes to incorporate the flavor. Next add your beef stock, water and tomatoes and bring the mixture up to a simmer over medium heat. Turn the heat down to low on your sauce, stir it well, add your bay leave, pinches of sugar and basil leaves and let it simmer on low for 2 to 3 hours to develop the richness of the sauce. Keep a lid cocked on the pot for the simmering time and make sure to stir the sauce often to keep it from burning and sticking to the bottom of the pan. Taste often too and adjust for seasonings. If you want a spicy sauce, you can add a teaspoon or more or less of crushed red pepper flakes to the onions and peppers while sauteing. Serve with your favorite pasta dish, like this turkey artichoke manicotti
and enjoy.