Let's be frank. Quiche is not a manly word. Why? Well, for starters, it's French. I know it's a romance language and all but American men aren't good with French words. At least my husband isn't. Unless it's French fries, he's clueless. In fact, I doubt my husband even knows how to spell quiche. He probably thinks it starts with a K and ends with an S and an H - keesh anyone? On top of the fact that it doesn't sound manly - it doesn't look real manly either. Usually a quiche is small and cute, something that ladies eat at a brunch or at a woman's tea. It's a food for ladies who lunch - a dainty egg custard tart filled with asparagus, diced ham (maybe) and some cheese. Well I've transformed the quiche. Or, actually, my mother transformed it.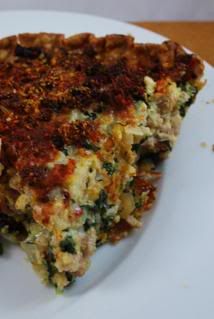 She created what I call a man-quiche to satisfy the appetites of my brother and father. If you want to serve quiche for dinner, then this is it. It's filled with sausage, eggs, cheese, spinach, stuffing and onions. In fact, you could almost call this a casserole. Call it what you will, but don't underestimate it's ability to fill up even the hungriest of men. This is one of my husband's favorites. Enjoy!
Man Quiche
source: my mom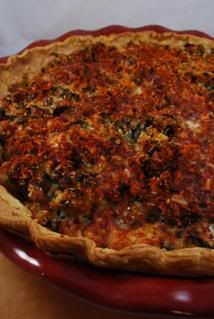 1 pie crust, homemade or frozen like Pilsbury
5 links of turkey or chicken sausage, casings removed
1/2 onion, chopped
1 10 oz. package of frozen chopped spinach, thawed and drained
2 cups of shredded monterey jack cheese
1/4 cup grated parmesan cheese
1/2 cup stuffing mix (I use Pepperidge Farm)
2 cloves garlic, chopped
3 eggs
1/2 cup milk
1/2 cup half and half
1/4 teaspoon nutmeg
salt and pepper
Paprika and extra parmesan for top
Preheat oven to 350 degrees. Lay out your pie crust in a deep dish pie plate. Place in the oven for 10 minutes to prime the crust, this helps it stay crispy, not soggy, when you add the filling later. Remove from the oven, set aside and let cool.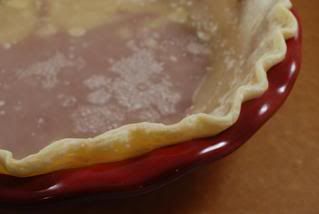 Turn oven up to 400 degrees.
In a skillet, brown your sausage fillings along with your chopped onion. Remove from the skillet and let cool.
In a bowl, combined your cooked sausage and onion, drained spinach, shredded cheese, parmesan cheese, stuffing mix and garlic until mixed evenly.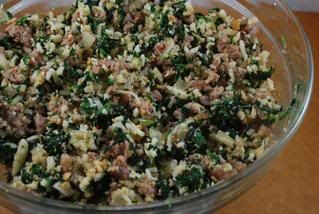 Pour this mixture into your pie shell.
In a small bowl crack and beat your eggs, whisk in the milk and half and half and nutmeg. Season with salt and pepper and pour it over top of your sausage mixture in the pie shell. Sprinkle the top with paprika and grated parmesan.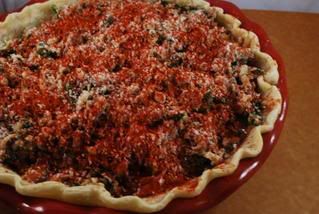 Place in the oven and cook for about 35 minutes or until quiche is set in middle.
Slice and serve with a green salad.