Last Tuesday my husband had ankle surgery. He's not only flat-footed but, ever since he was about 5-years-old, he's thought he was Spiderman. He won't ever admit that, but that's my theory. He spent his youth jumping off bridges (I'm not talking like make-shift bridges, I'm talking public road bridges...yeah he's that breed of crazy!). He also could easily be found jumping out of really tall trees and even jumping out the window of his third-story bedroom. He was a child with no fear and it stretched into his adulthood.
About a year and a half ago at 36 years of age, he jumped off the top of one of the public buses he services as a mechanic as part of a practical joke. As luck would have it, the joke ended up being on him. He landed on a 5-inch thick power cord, twisted his ankle and chipped a bone in his joint. He whined and griped about the pain for about a year and then finally took my advice and went to the doctor. Surgery was the only remedy, so last week he went under the knife. Since then, he's been a permanent fixture on our couch, his ankle encased in a bulky cast. So as part of my marriage commitment to be a good wife in sickness and in health, I've spent the last few days making some of his favorite meals, the first of which are these
Perfect Filet Mignons.
I guess you could say the oxycodone and visteral are what's taking away my husband's residual surgery pain, but I say it's my fabulous home cooking. Hey, a girl can have her illusions.
Perfect Filet Mignons
source: Me and everyone else who has ever made a steak (honestly...come on! I'm not trying to claim trademark on a well-grilled steak but nor can I attribute it to one person.)
2 fillet mignons (I found that Trader Joe's has some of the best fillets available in a supermarket)
freshly ground black pepper
seal salt
olive oil
1 package of sliced mushrooms
2 tablespoons butter
a small half handful of chopped sage leaves
1/4 cup crumbled blue cheese or gorgonzola
Rinse and pat dry your fillets - the drier the better. Season each fillet with salt and pepper on each side. Place a grill pan, like my beloved Mario Batali flame red pan, over your burners. Turn the burners to medium heat and let the grill pan get HOOOOOOT! Brush it with plenty of olive oil. Once smokin', Throw in your fillets.
Cook for 3 to 5 minutes on each side depending on desired doneness.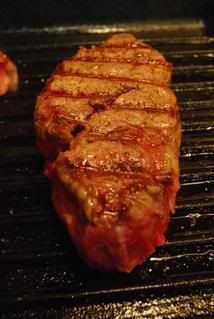 Once done, remove from pan.
Top each fillet with half of the crumbled blue cheese.
Meanwhile, in a small skillet melt the two tablespoons of butter and add your sliced mushrooms and chopped sage leaves. Saute until the mushrooms are tender. Spoon over your fillets.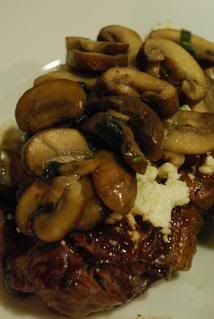 Serve and enjoy.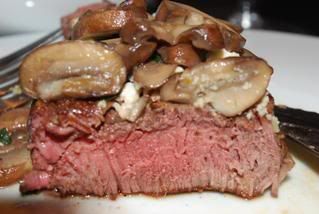 That's one beautiful steak! Makes a man forget his hurtin' ankle pain :)