The inspiration for this dish was found at
The Way The Cookie Crumbles.
Bridget makes some really delicious looking food - and takes beautiful pictures of it as well. When I saw her post for salmon pesto pasta I was salivating! The combination just sounded so delicious - I had never thought of putting salmon in my pesto pasta! I perfected a pesto technique when my husband and I were "living in sin" about 4 years ago and working extremely low paying jobs. Pesto pasta was not only easy and fresh, but cheap - especially in the summer when I could buy a bouquet of fragrant green basil at the farmers market for $1.50.
So here's my version of Bridget's ingenious idea for Salmon Pesto Pasta. These measurements are rough - I truly go by color, texture and taste when making pesto. So go by these measurements, but feel free to adjust to your taste. Enjoy!
Salmon Pesto Pasta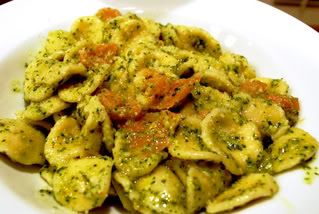 6 oz. smoked salmon, chopped
1 lb orecchiette pasta (1 box)
6 cloves of garlic, peeled
1 teaspoon olive oil
salt and pepper to taste
1 cup of packed fresh basil leaves
1/2 cup of fresh Italian flat-leaf parsley
1/4 cup pine nuts
1/3 cup grated pecorino romano, plus more for sprinkling over finished pasta
juice of half a lemon
olive oil, atleast 1/2 cup
1 tablespoon half and half, room temperature
Preheat oven to 400 degrees. Take a slightly large piece of foil, place your peeled garlic cloves in the center of the piece of foil, pour your teaspoon of olive oil over the cloves, season with salt and pepper and then fold up the foil to form a little packet. Place the packet in your oven and roast the garlic for about 30 to 35 minutes. You'll smell it when it's done. Remove from the oven and let cool.
Meanwhile, place your pine nuts in a small saute pan and toast over medium low heat. Keep an eye on them because they will burn easily. Once toasted - slightly browned - remove from the heat and set aside to cool.
Set a small pot of water to boil. Once it's boiling add your basil leaves and blanch for 1 minute. Immediately remove and plunge the basil leaves in ice cold water. This helps the basil keeps it's bright green color.
Next, in the bowl of your food processor, combine the roasted garlic cloves, basil and parsley, pine nuts, romano cheese, and lemon juice. Turn on the processor and process. While it's processing, slowly stream in olive oil through the opening at the top of the bowl. Once your pesto has a thick but saucy consistency you're done. Season it with salt and freshly ground pepper and spoon into a large serving bowl, big enough to toss your pasta in.
Set a large pot of water to boil. Once boiling, pour in your orecchiette and cook according to package directions. Drain and place in your serving bowl atop the pesto. Toss your pasta until it's well coated and then fold in the chopped smoked salmon. Sprinkle with some grated romano cheese and freshly ground black pepper and serve.