These were two of the star appetizers for my dinner party. Here's a snapshot of the table in progress: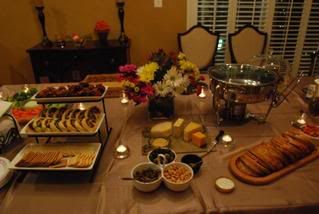 .
Once the party started though I didn't have time to take any photos unfortunately so I never got one of the full table or the main dishes. Oh well. Anyway...
I got the inspiration for the spinach palmiers from Michele over at
My Italian Grandmother
, as well as the well-known Barefoot Contessa Ina Garten. I made some substitutions, but overall this recipe is fairly simple - egg, spinach, cheese, puff pastry, mix, roll and bake. You end up with a very impressive little snack! Enjoy!
Savory Spinach Palmiers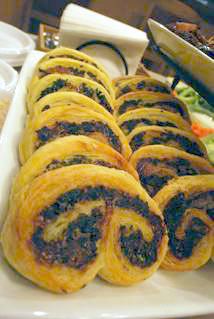 1 box of puff pastry (two sheets), defrosted
1 egg and 1 tbsp of water, beaten
1 cup cup shredded mozzarella
1 cup ricotta cheese
1/4 cup grated romano cheese
1/2 onion, diced
1 clove garlic, minced or grated
1 tbsp extra virgin olive oil
salt and pepper, to taste
1 10 oz box of frozen spinach, defrosted and drained well
pinch of nutmeg
Directions:
1. Saute onion and garlic in oil until onions are tender and translucent. Remove. Let cool.
2. In a mixing bowl, mix the cheeses and spinach, taste and season with salt and pepper and nutmeg. Add in your cooled onion and garlic mixture.
3. Lay out one sheet of puff pastry on a flat surface that has been dusted with flour.
4. Spread half of the mixture onto the dough.
5. From the short ends, fold each side of the puff pastry in halfway to the middle, and then fold it in halfway again so that the folds are touching in the middle. At this point you can wrap and refrigerate the pastry for 45 minutes or overnight.
6. When ready to serve, remove the pastry from the fridge and slice in 1/2 inch thick slices. Lay them out on a non-stick, or greased, cookie sheet.
7. Bake at 400 for about 15 minutes or until golden. I found that I had to flip these once halfway through the baking to make sure they cooked evenly on both sides.
8. Remove and serve warm.
Bacon-Wrapped Dates with Gorgonzola Cheese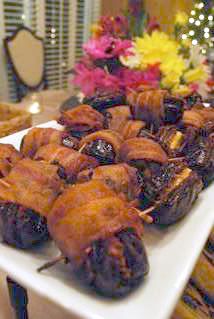 These were very simple. I've seen them done before so didn't really follow a recipe, just kind of mimicked the method.
1 package of medjool dates (pitted or unpitted)
1 package of bacon
1 package of gorgonzola cheese
If you bought pitted dates, it's very easy to pit these. Simply slice a slit down the belly of the date to make it a pouch, then squeeze the date open by pushing on both ends and reach in and pull out the pit.
Then you can cube your gorgonzola cheese to about 1/2 in thick cubes and shove them into the pouch of the date.
I also like to cook my bacon slightly before wrapping the dates so that I can ensure it crisps up completely in the oven. I bake it for about 5 to 10 minutes in the oven on 400 degrees first, let it cool and then wrap it around my dates.
Then I place the bacon-wrapped dates stuffed with the gorgonzola cheese back in the oven at 400 degrees for about 10 to 15 minutes. You don't want the dates or bacon to burn so just keep your eye on them. Remove and serve.
I can't tell you how many people balked when they first saw these little wrinkled numbers sitting on the table. But one taste and they were hooked! The salty, sweet, pungent combo of cheese, bacon and dates is out of this world. Try it!