This recipe was so easy and delicious. I made a few additions and modifitations to the recipe and subbed regular black olives for kalamata because my husband isn't a fan of strong tasting olives.
Instead of throwing in raw tomatoes, I oven roasted whole grape tomatoes with a about 6 cloves of garlic in a baking dish on 425. I coated them with salt, pepper and olive oil and let them roast for about 20 minutes. This helped add to the saucy consistency of the pasta and gave the tomatoes even more flavor. And in my kitchen extra garlic is always a welcomed addition! I also added some crumbled crisped up prosciutto to the final product. And last but not least, I added a small handful of toasted pine nuts to the sundried tomato dressing mixture to give more body and a nutty flavor.
Overall I would definitely make this again. Tasty, easy, fresh, light and delicious. The perfect summer pasta served hot or cold! Enjoy! You can see how others in the
Barefoot Bloggers
group fared with this dish
here
.
Pasta with Sundried Tomatoes
source: The Barefoot Contessa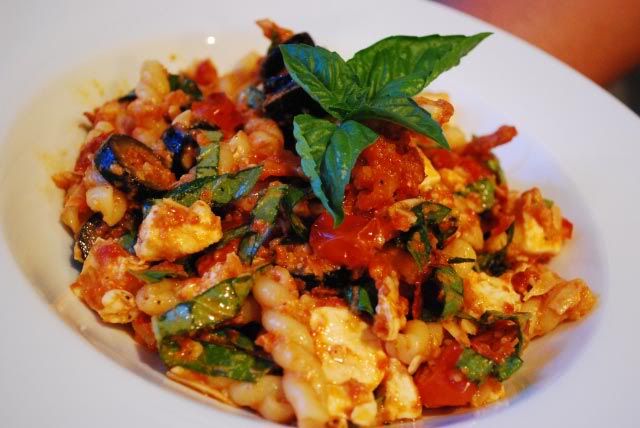 1/2 pound fusilli (spirals) pasta
Kosher salt
Olive oil
1 pound ripe tomatoes, medium-diced
3/4 cup good black olives, such as kalamata, pitted and diced
1 pound fresh mozzarella, medium-diced
6 sun-dried tomatoes in oil, drained and chopped
For the dressing:
5 sun-dried tomatoes in oil, drained
2 tablespoons red wine vinegar
6 tablespoons good olive oil
1 garlic clove, diced
1 teaspoon capers, drained
2 teaspoons kosher salt
3/4 teaspoon freshly ground black pepper
1 cup freshly grated Parmesan
1 cup packed basil leaves, julienned
Directions
Cook the pasta in a large pot of boiling salted water with a splash of oil to keep it from sticking together. Boil for 12 minutes, or according to the directions on the package. Drain well and allow to cool. Place the pasta in a bowl and add the tomatoes, olives, mozzarella, and chopped sun-dried tomatoes.
For the dressing, combine the sun-dried tomatoes, vinegar, olive oil, garlic, capers, salt, and pepper in a food processor until almost smooth.
Pour the dressing over the pasta, sprinkle with the Parmesan and basil, and toss well.