I have planted several herbs in pots on my patio, but my basil and oregano are doing the best by far. My cilantro died, my parsley has sprouted weird-looking stalky branches (does anyone else have this problem?), and my rosemary is doing ok - it's not as bushy and hearty as usual for some reason. I also have chives planted, and they are doing fabulously but I am wondering why I even planted them since I don't have many uses for them. So if anyone has any great recipes that star chives as a main ingredient let me know! I have done them on potatoes and in an omelette but that's about it.
Anyway, on to the task at hand. For this recipe I chopped up a ton of fresh oregano to coat some fresh swordfish. I grilled it and then topped it with a fresh sundried-tomato and basil pesto. This dish was simple, fresh and perfect for a Sunday summer dinner. Enjoy!
Swordfish Oregano with Sundried-Tomato & Basil Pesto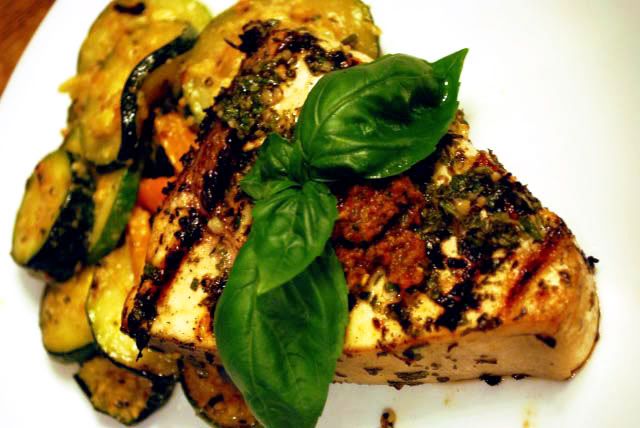 4 swordfish filets, about 1 in thick
8 to 10 sprigs of fresh oregano, chopped
4 cloves garlic, minced
juice of half a lemon
salt and pepper
1/2 cup olive oil
Rinse and pat dry your filets and set aside. Combine the rest of your ingredients and coat your fish. Let set for about 10-15 minutes in the marinade. Then grill.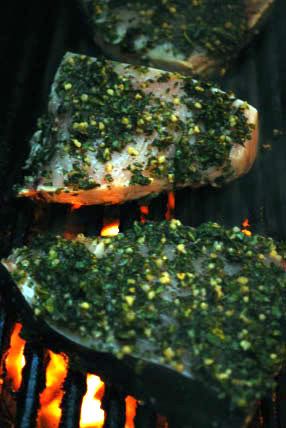 Remove and serve with Sundried-Tomato & Basil Pesto.
Sundried-Tomato & Basil Pesto
1 cup basil leaves
1 8-oz jar of sundried tomatoes, drained from oil
1/2 cup toasted pine nuts
1 clove garlic
1/4 cup grated Romano cheese
squeeze of lemon juice
salt and pepper to taste
1/2 cup to 3/4 cup extra virgin olive oil
Combine all the ingredients except the olive oil in a food processor. Once the ingredients have formed a paste-like consistency, drizzle in the olive oil until it's the consistency you want. Season to taste. Serve over fish, pasta, chicken or slather on sandwiches. Enjoy!