Because it's summer and we're trying to eat good and fresh I've been really obsessed with trying new salad ideas and combinations. Here's a link to some other salad creations,
Warm Spinach Salad
,
Wedge Salad
,
Kicked-up Caprese Salad
. I will have another salad showstopper in a few days as well - my Tuscan Wedge.
But first to the recipe at hand! I saw the recipe for this Basil Caesar Salad in
Gourmet Magazine
and loved the idea, especially since I have basil growing like crazy in a pot on my patio. What a healthy, tasty way to use it up! Making pesto over and over gets a little old. I added grilled corn, tomatoes, grilled avocado and shaved provolone to the salad.
So while it was a "caesar-style" dressing, it wasn't a traditional "caesar" salad. It was very good though and with all those veggies it made the perfect compliment to a piece of grilled salmon. Enjoy!
Basil Caesar Salad with Grilled Avocado, Grilled Corn, Tomatoes and Shaved Sharp Provolone Cheese
Source: Gourmet Magazine, for the dressing
For the dressing:
1/2 cup extra-virgin olive oil, divided
1 garlic clove
1 large egg
2 tablespoons fresh lemon juice
1 tablespoon anchovy paste
1 cup basil leaves, coarsely chopped
1/2 cup flat-leaf parsley, coarsely chopped
1 package romaine hearts (1 pound), leaves separated and washed well, then halved crosswise
1 cup coarsely grated Parmigiano-Reggiano
Meanwhile, with motor running, drop garlic into a food processor and finely chop. Add egg, lemon juice, anchovy paste, and 1/2 teaspoon pepper and pulse until combined. With motor running, add remaining 6 tablespoons oil in a slow stream, blending until emulsified. Add herbs and blend until dressing turns green and herbs are finely chopped.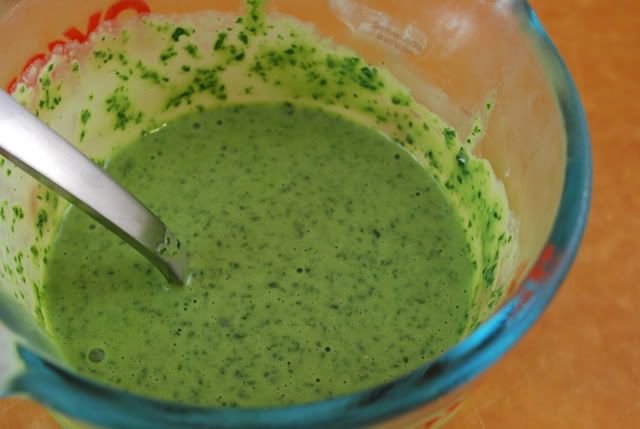 Toss romaine with dressing, croutons, and half of cheese in a large bowl. Sprinkle with remaining cheese.
You can grill the corn and avocado directly over the grill grates. Grill until the avocado softens and displays grill marks and until the corn chars up a bit. Let cool, chop and serve over the lettuce. Toss in one chopped tomato and shave a wedge of sharp provolone over the top for extra flavor. Serve.