The inspiration from this salad came from one of my favorite restaurants in Bethany Beach, DE called
DiFebo's Italian Restaurant
. They serve a crispy wedge of Romaine lettuce topped with chopped candied mission figs, crumbled gorgonzola and chopped walnuts. They drizzle it with a creamy balsamic vinaigrette.
In my version I used just regular sliced mission figs (didn't have the time or effort to candy them), toasted pine nuts and crumbled gorgonzola cheese.
For the dressing, I used lemon juice, aged balsamic vinegar (the expensive one I mention
here
that is super thick and sweet), dijon mustard, salt, pepper and extra virgin olive oil. This was such a tasty, light and healthy salad, I'll definitely be adding to my repertoire!
Enjoy!
Tuscan Wedge Salad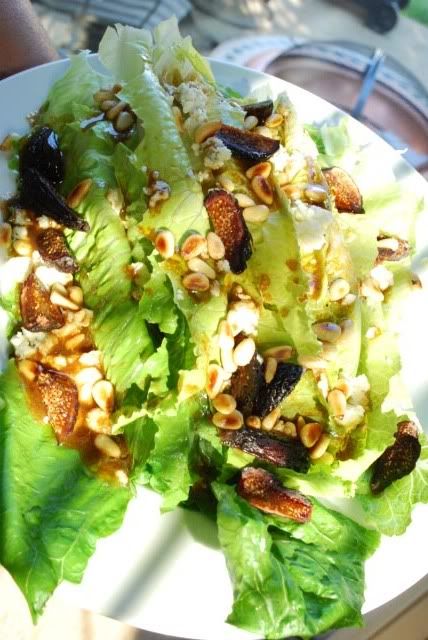 1 head of Romaine lettuce, cut in half
1/4 cup toasted pine nuts
1/4 cup sliced mission figs
1/4 cup crumbled gorgonzola cheese
For the dressing:
1/2 lemon, juiced
1/4 cup aged balsamic vinegar
1/2 cup olive oil
1 tablespoon dijon mustard, plus more if needed for taste
salt and pepper
Whisk together the ingredients for the dressing. My measurements are rough so you may need to adjust some amounts to your particular taste.
Place each half of your wedge on a dinner plate and top evenly with your nuts, figs and cheese. Drizzle your dressing and serve.