I saw this recipe in my June issue of
Food and Wine Magazine
. I love this magazine! It has so many recipes from easy to fancy. The variety is just great. And the photos are fabulous as well - definitely a source of inspiration on many levels.
This particular recipe was great. First you brine the pork chops and then you rub them with a spicy, salty, smoky and slightly sweet rub. The pork chops come out juicy and flavorful. I would definitely make this rub again. It seems like it would also be great on a whole pork loin as well. Or even chicken! Enjoy!
Cocoa and Chile Rubbed Pork Chops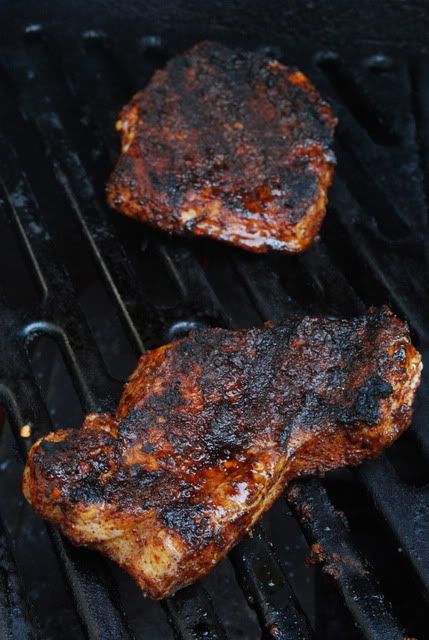 2 quarts water
1 1/2 teaspoons crushed red pepper
Kosher salt
Four 1 1/2-inch-thick boneless pork loin chops
1 tablespoon unsweetened cocoa powder
1 tablespoon light brown sugar
1 tablespoon pure ancho chile powder
Extra-virgin olive oil for brushing
In a large bowl, combine the water with the red pepper and 1 1/2 teaspoons of salt and stir until the salt dissolves. Add the pork chops and let brine at room temperature for 1 hour.
Light a grill and create a cool zone. (For a charcoal grill, rake the coals to one side; for a gas grill, leave one side unlit.) In a bowl, mix the cocoa, sugar and ancho powder with 1 tablespoon of salt.
Drain the pork chops and pat dry, removing any bits of crushed pepper. Brush generously with olive oil. Roll the pork chops in the cocoa rub and pat to help it adhere. Grill over moderately high heat for 4 minutes, turning the chops once or twice until lightly browned. Transfer the chops to the cool zone, cover and grill for about 15 minutes, until an instant-read thermometer inserted in the center of the chops registers 135° for medium meat. Let the chops rest for 10 minutes before serving.