I almost didn't make it for Cookie's version of the
Platinum Chef Challenge
, hosted at her blog entitled,
Workout Then Cook!
. Her five secret ingredients were:
strawberries, garlic, asparagus, cheese and mushrooms. You could pick any variety of each ingredient that you wanted, but you had to make two dishes using the ingredients and use at least two to three of the ingredients in each dish. You can get all the rules on Cookie's website. Here's a pic of my five ingredients: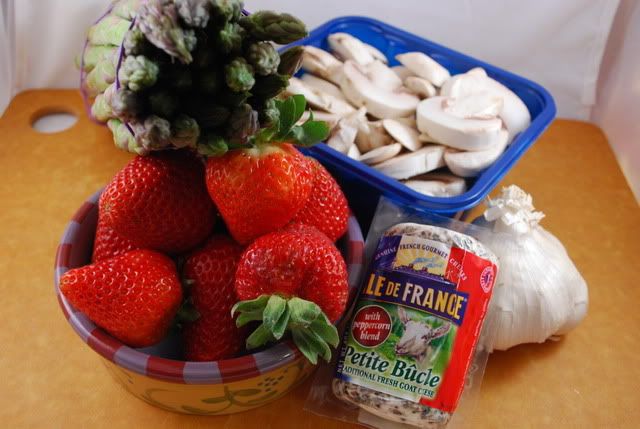 I used your basic white mushroom and for the cheese I chose peppered goat cheese.
Here are my recipes! Enjoy!
Strawberry Spinach Salad with Balsamic Vinaigrette
1 cup pecans
1 egg white
2 tablespoons brown sugar
pinch of salt
1/4 cup dried cranberries
1 cup of sliced strawberries
1 package of triple-washed fresh baby spinach leaves
1 4 oz package of peppercorn goat cheese
Aged balsamic vinegar (the sweet, expensive kind if you have it. If not just take some regular balsamic and make a reduction with it to thicken and sweeten it up. Just heat it over the stove in a pot for a while. About 1/4 cup.)
Extra-virgin olive oil (about 1/2 cup)
Preheat oven to 350 degrees. Combine the pecans, egg white and brown sugar and spread on a greased baking sheet. Sprinkle lightly with a little salt. Bake in the oven for about 15-20 minutes. Stir once and just keep an eye on the pecans to make sure they don't burn. Remove and let cool.
In a large bowl, combine your cranberries, sliced strawberries, spinach leaves and crumbled peppercorn goat cheese. Once your pecans are cool, toss those in as well. Then mix together the vinegar and olive oil. Season with salt and pepper and toss it with your salad.
Chicken-Asparagus Bundles with a Creamy Marsala Mushroom Sauce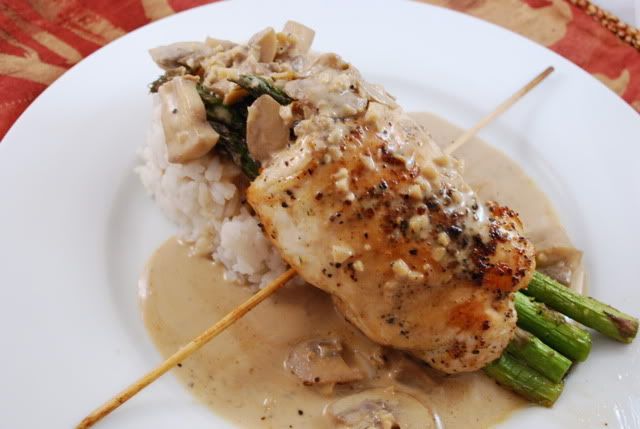 8 stalks of asparagus
2 chicken breasts, pounded thin
your favorite seasoning for sprinkling over the chicken (I used Mrs. Dash - you can easily just use salt and pepper.)
For the sauce:
2 cloves garlic, minced
1 tablespoon butter
1 tablespoon olive oil
1 pint of mushrooms, sliced
1/4 cup marsala wine
1 tablespoon dijon mustard
1/2 cup of beef or chicken stock, whatever you have on hand
1/2 cup cream
To make the chicken:
Once you've pounded your breasts thin, lay them out on a cutting board. Put four asparagus spears in each one and roll them up. If needed, secure them with a toothpick. Sprinkle the breasts with seasoning of your choice and then drizzle with olive oil so they are well coated, the asparagus too. Brown them in a frying pan on the stove - this helps seal in the juices and also helps keep the roll together - and then put them into a 350 degree oven to finish cooking them. Takes about 20 minutes total. When done remove them and cover with foil to keep warm if your sauce isn't done.
For the sauce:
While the chicken is in the oven, in a large pan saute your garlic in the butter and oil. Once softened, add your mushrooms. Let the mushrooms release their juices and become tender. Then pour in your wine, dijon and stock. Season lightly lightly with salt and then pepper as well. Once it's thickened a bit pour in your cream and allow it to thicken into a saucy consistency. If it gets too thick just add a little bit of water or more stock if you have it. Serve the chicken over some rice and spoon your sauce over the top. Enjoy!