I just had to post some pictures of the glorious meat my family enjoyed over the holiday weekend. July 4th is important to me because it's not only Independence Day, but it's also the day after my husband's birthday. So we celebrate all weekend. And it works out that my husband's favorite food is hamburgers and steaks on the grill. We put a little twist on these American favorites. Hope it inspires you to bring out the best on your bbq!
Mediterranean Strip Steaks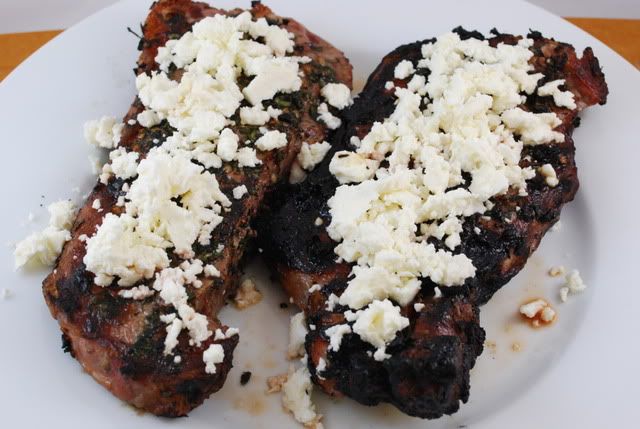 4 steaks
4 cloves garlic minced
10-12 sprigs of fresh oregano, minced
1/2 cup olive oil
salt and pepper
1/2 cup feta cheese
Combine the chopped garlic, oregano and olive oil. Season with salt and pepper.
Cover the steaks and let marinate for about an hour so the flavor can soak into the meat. Grill until desired tenderness. Serve topped with crumbled feta cheese.
Gorgonzola Stuffed Burgers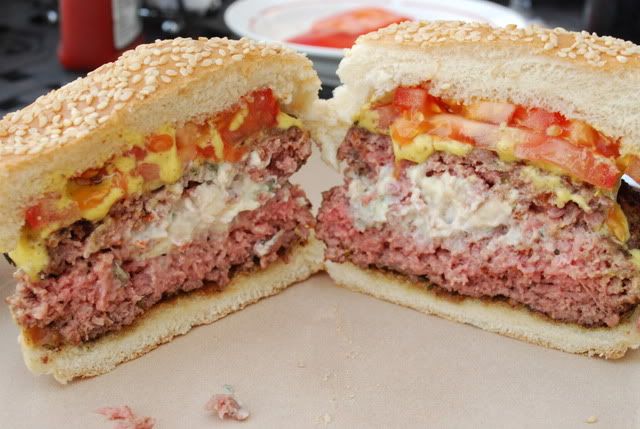 There's really no need for a recipe here of course. These tasted so good! I mixed the meat with a little salt and pepper, and a small palmful of McCormick's Grill Seasoning "Hamburger". I then stuffed the patties with my favorite blue cheese, gorgonzola. Grilled and served. They tasted fantastic with some juicy tomatoes and dijon mustard.