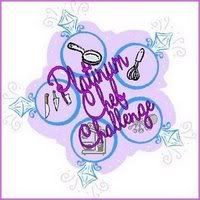 It's truly the little victories and joys in life that encourage you to keep on trying new things! That said, I was completely honored to have my
dish
chosen as the winner of the Platinum Chef Challenge #8 by Stefany of the
Proceed with Caution
blog. There were some really creative and unique entries this time around, and I was just happy to find out about the contest and participate. So now it's my turn to host and hopefully I've come up with some ingredients that inspire the creative juices in everyone!
Here is a review of the rules (from the challenge's creative leader, Cara of
Cara's Cravings
):
"Platinum Chef Challenge started as an activity on a cooking message board to encourage members to create a meal out of 5 selected ingredients. You might think they go together, and you might not. You might have used them before, or maybe not. Maybe you will have a recipe in mind, and maybe you will create a new one. Most likely, you'll put on your creative (chef's) hat and whip out something new and exciting.
To play, just create a meal using the five given ingredients and blog about it. Please link back to this post, and feel free to include the event logo in your blog. The meal can consist of 1 or 2 dishes - so you can use all the ingredients in one recipe, or make two. Example: main dish + side, appetizer + main dish, main dish + dessert, etc. But, if more than one dish is created, each dish must use at least two of the ingredients (and, any ingredient may be repeated and used in both dishes if desired). You can add whatever other ingredients you like."
To participate, please post your dishes on your blog (linking back to this post), and send an email to scoops78@comcast.net by midnight (PST) on Sunday, October 5th (so that gives you about a month to complete your recipes), with the following information:
Name
Location
Name of your dish(es) and your blog
Pictures you want in the Round-up
Link to the PCC8 post in your blog
(If you don't have a blog, send recipes and photos in your email and I will include you in the Round-up that way!)
So....drumroll please!!!!!! Here are your five challenge ingredients (as you can see I was inspired by the upcoming Fall season):
Sage
Bacon
Apples (any variety you want)
Shallots
Mushrooms (again, any variety, fresh or dried)

Have fun! And please pass it on to your friends and fellow bloggers. I even have a prize in store for this round's winner :P) Can't wait to see all the entries!!!