Well, as stated below, I'm a little late with this recipe. Probably the main reason, cutting out all the BS, I just really wasn't in the mood for soup earlier this week. It was warm here in Maryland, up until about two days ago. Some hurricane blew through and the last two days were rainy and chilly. What a coincidence!! Perfect soup weather. So I whipped up this soup last night for myself, my mom and my husband.
It was ok. I didn't follow the recipe exactly. Some things I did differently:
1. I couldn't find fresh porcini mushrooms so I used dried. I reconstituted them in some warm water and used those two cups of porcini water to help flavor the mushroom stock.
2. I didn't use as much butter as she calls for. My husband would definitely claim this is why the soup wasn't great - he regards butter as the cure-all. Kind of like Paula Deen.
3. I didn't use as much cream as she calls for either. I only used a cup of half and half and left out the heavy cream, which probably explains why it was a bit thin. I was just afraid of getting something too heavy if I added all the cream she called for.
4. My mother didn't understand why I was throwing out perfectly good cooked vegetables (ie the ones used to make the stock) so she decided to add them to the soup. It was actually a very good decision - the added vegetables provided some flavor and substance to the soup. Especially the carrots!
Overall, it wasn't bad. Just a bit bland. I served it with homemade garlic bread - basically just spread some butter and minced garlic on some rosemary olive oil bread and topped it with a ton of romano cheese and baked it. The bread helped give the soup a lot of flavor. We also sprinkled some romano cheese in our soup bowls, which helped add flavor and thicken the soup a bit.
If I made this again I'd probably add all the cream she calls for, all the butter she calls for and I'd use chicken stock instead of water to make the mushroom stock. I also think it might of been a good idea to take a few cups of the soup and puree it up and then add it back in for natural thickness. So I'd try that next time too.
Cream of Wild Mushroom Soup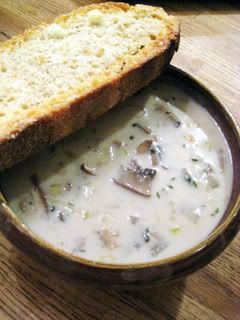 5 ounces fresh shitake mushrooms
5 ounces fresh portobello mushrooms
5 ounces fresh cremini (or porcini) mushrooms
1 tablespoon good olive oil
1/4 pound (1 stick) plus 1 tablespoon unsalted butter, divided
1 cup chopped yellow onion
1 carrot, chopped
1 sprig fresh thyme plus 1 teaspoon minced thyme leaves, divided
Kosher salt
Freshly ground black pepper
2 cups chopped leeks, white and light green parts (2 leeks)
1/4 cup all-purpose flour
1 cup dry white wine
1 cup half-and-half
1 cup heavy cream
1/2 cup minced fresh flat-leaf parsley
Clean the mushrooms by wiping them with a dry paper towel. Don't wash them! Separate the stems, trim off any bad parts, and coarsely chop the stems. Slice the mushroom caps 1/4-inch thick and, if there are big, cut them into bite-sized pieces. Set aside.
To make the stock, heat the olive oil and 1 tablespoon of the butter in a large pot. Add the chopped mushroom stems, the onion, carrot, the sprig of thyme, 1 teaspoon salt, and 1/2 teaspoon pepper and cook over medium-low heat for 10 to 15 minutes, until the vegetables are soft.
Add 6 cups water, bring to a boil, reduce the heat, and simmer uncovered for 30 minutes. Strain, reserving the liquid. You should have about 4 1/2 cups of stock. If not, add some water.
Meanwhile, in another large pot, heat the remaining 1/4 pound of butter and add the leeks.
Cook over low heat for 15 to 20 minutes, until the leeks begin to brown. Add the sliced mushroom caps and cook for 10 minutes, or until they are browned and tender.
Add the flour and cook for 1 minute. Add the white wine and stir for another minute, scraping the bottom of the pot.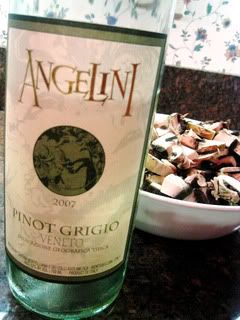 Add the mushroom stock, minced thyme leaves, 1 1/2 teaspoons salt, and 1 teaspoon pepper and bring to a boil. Reduce the heat and simmer for 15 minutes.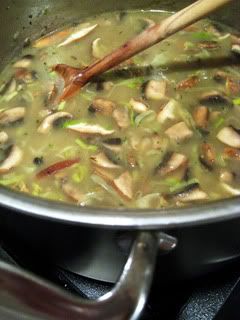 Add the half-and-half, cream, and parsley, season with salt and pepper, to taste, and heat through but do not boil. Serve hot.