Who doesn't love a big plate of comforting spaghetti and meatballs? Ina's version was a real winner too. I did make a few additions to her recipe and some other changes. I added one bag of cooked spinach to my meatball mixture to try to mix in some greens with this meal. I also swapped out regular pasta for whole wheat pasta in a further attempt to make spaghetti and meatballs somewhat good for you. My husband wasn't too happy about that, but he still ate two plates. So obviously it wasn't that awful! My other additions are italicized below.
I noticed a lot of people said they didn't have enough sauce for all their meatballs. I halved the meatball recipe and just used a pound of ground beef I had in the freezer, but I kept the sauce measurements the same, so I found I had plenty of sauce for my meatballs. I also added some extra liquid to my sauce as well - in addition to the wine and tomatoes I added about a 1/2 cup to 3/4 cup of beef stock. Both because I had some open in the fridge that needed to be used and because I figured it would only add to the flavor. It served both purposes well. I can see though otherwise how you'd run short on sauce. This recipe, as most of her recipes, makes a lot of meatballs. Way more than the serving size suggests. It's a great basic recipe though and mine turned out very tasty.
Real Spaghetti and Meatballs
source: Ina Garten, www.thefoodnetwork.com
1/2 pound ground veal
1/2 pound ground pork
1 pound ground beef
1 10oz box of frozen chopped spinach or 1 bag of baby spinach, cooked
1 cup fresh white bread crumbs (4 slices, crusts removed)
1/4 cup seasoned dry bread crumbs
2 tablespoons chopped fresh flat-leaf parsley
1/2 cup freshly grated Parmesan cheese
2 teaspoons kosher salt
1/2 teaspoon freshly ground black pepper
1/4 teaspoon ground nutmeg
1 extra-large egg, beaten
Vegetable oil
Olive oil
For the sauce:
1 tablespoon good olive oil
1 cup chopped yellow onion (1 onion)
1 1/2 teaspoons minced garlic
1/2 tablespoon of anchovy paste 1 tablespoon of tomato paste
1/2 cup good red wine, such as Chianti
1/2 to 3/4 cup of beef stock
1 (28-ounce) can crushed tomatoes, or plum tomatoes in puree, chopped
1 tablespoon chopped fresh flat-leaf parsley (i used more like 4)
4 tablespoons (or a good handful) of chopped fresh basil
1 1/2 teaspoons kosher salt
1/2 teaspoon freshly ground black pepper
For serving:
1 1/2 pounds spaghetti, cooked according to package directions
Freshly grated Parmesan
Directions
Place the ground meats, both bread crumbs, parsley, Parmesan, salt, pepper, nutmeg, egg, and 3/4 cup warm water in a bowl. Combine very lightly with a fork. Using your hands, lightly form the mixture into 2-inch meatballs. You will have 14 to 16 meatballs.
Pour equal amounts of vegetable oil and olive oil into a large (12-inch) skillet to a depth of 1/4-inch. Heat the oil. Very carefully, in batches, place the meatballs in the oil and brown them well on all sides over medium-low heat, turning carefully with a spatula or a fork. This should take about 10 minutes for each batch. Don't crowd the meatballs. Remove the meatballs to a plate covered with paper towels. Discard the oil but don't clean the pan.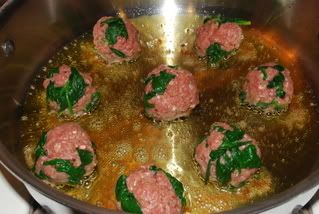 For the sauce, heat the olive oil in the same pan. Add the onion and saute over medium heat until translucent, 5 to 10 minutes. Add the garlic and cook for 1 more minute. Add the wine and cook on high heat, scraping up all the brown bits in the pan, until almost all the liquid evaporates, about 3 minutes. Stir in the tomatoes, parsley, salt, and pepper.
Return the meatballs to the sauce, cover, and simmer on the lowest heat for 25 to 30 minutes, until the meatballs are cooked through. Serve hot on cooked spaghetti and pass the grated Parmesan.