When I saw this recipe on
The Pioneer Woman's blog
I was in love.
Cheese, bacon, chicken with a honey mustard marinade?? Why didn't I think of that?
In fact, I have that reaction to a lot of her recipes. They are so simple and yet so good. I often wonder why I didn't put that combination together. This chicken was no exception. It comes out moist, flavorful and satisfying. My husband was very happy with it since it included bacon - one of his favorite things.
I served it with a version of her fluffy new potatoes. Except, since I had some homemade guacamole leftover (that I'll hopefully update the blog with soon), I used that instead of her combo of cream cheese and sour cream etc. to flavor my spuds.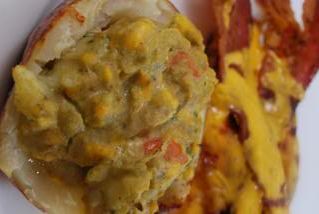 This was an easy and versatile way to prepare potatoes that, of course, I had never thought of before.
Truly, I'm so jealous of her lifestyle. She lives on this big beautiful ranch, takes fabulous photos of all the animals, expansive scenery, her five kids, her ranch-hand husband roping cattle and probably makes a pretty good chunk of change with her "food blog" -I say it in quotes because it's really so much more than that. Again - why didn't I think of that? Although, my photography skills are so-so, I live in a townhouse in suburban Maryland with 4 cats, my husband is a mechanic (he does hurt himself a lot so I guess I could write and photograph about that? Nah) and I haven't developed a whole plethora of recipes on my own.
Oh well. Perhaps one day I can actually improve this blog thing and take it to new heights. But for now, it is what it is. Sigh.