There is only one word needed to describe this dish....supercalifragilisticexpialedocious! It was out of this world good. I combined two recipes found online, the first was Melissa of
Delicious Meliscious Seafood Lasagna Rolls
and the second was
The Pioneer Woman's Vodka Sauce
.
I served this as a main dish at my dinner party, along with Lemon-Spiced Chicken from my Newlywed's Cookbook (which was also delicious, moist and spicy). The entire casserole dish of lasagna was gone! My brother had two rolls himself, which was quite a lot. Everyone loved it! So if you need a surefire hit for a dinner party, this is definitely it.
Here's the basic recipe from Melissa's blog (I doubled this for 20 people) with my substitutions in bold. Unfortunately I don't have a picture of the finished product because I got so busy that night I forgot! But check out Melissa's post for a great final product photo:
Seafood Lasagna Rolls
6 lasagna noodles
1 ½ tbsp. olive oil
1 lb. shrimp, peeled and deveined (I used frozen easy-peel shrimp)
salt and pepper
2 cloves garlic, minced
1 small can lump crab meat (I recommend Trader Joe's canned crab meat if you can get it)
15 oz. ricotta cheese
1 cup shredded mozzarella cheese 1/2 cup Parmesan cheese grated
1 egg, lightly beaten
2-3 tbsp. chopped fresh basil
pinch of nutmeg
1 ¾ cups marinara sauce, divided
I used PW's vodka sauce here
shredded mozzarella cheese, for topping
Directions:
Preheat the oven to 350°.
Bring a large pot of water to boil over high heat. Add the lasagna noodles and cook until partially tender, about 8 minutes. Drain and set aside.
Meanwhile, heat the oil in a large skillet over medium heat. Add the shrimp to the skillet; season with salt and pepper. Add the garlic to the pan as well and sauté until shrimp are cooked, about 4 minutes, stirring often. Remove from heat and let cool. Coarsely chop the cooled shrimp and place in a bowl with 1 cup of ricotta cheese, the Parmesan, crab, egg, basil, salt and pepper to taste, and the nutmeg. Stir to combine.
In another bowl, combine 1 ½ cups of marinara sauce with remaining ricotta, to taste. Stir until smooth.
In an 8×8" baking dish, spread the remaining ¼ cup of marinara sauce so it covers the bottom. Lay lasagna noodles out on a work surface. Divide the shrimp mixture evenly between the noodles and spread over the full length of each.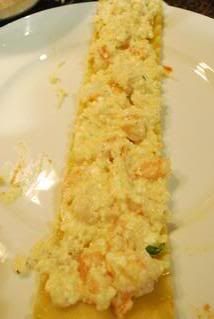 Roll up and place seam-side down in the baking dish. Spoon the creamy marinara sauce over the top. Top with shredded mozzarella.
Bake until lasagna rolls are heated through and cheese begins to brown, about 25 minutes.
PW's Vodka Sauce
1 medium onion, chopped finely (I only used 1/2 onion)
2 to 3 cloves of garlic, chopped
2 tablespoons olive oil
2 tablespoons butter
3/4 to 1 cup vodka
1 can tomato puree
1 cup heavy cream
Pinch of red pepper flakes
1/4 to 1/2 teaspoon salt
Freshly ground black pepper
1 cup grate Parmesan cheese (I didn't do this since there was tons of cheese in the lasagna)
I also added a bunch of fresh chopped basil
Cook pasta according to package directions, being careful not to overcook.
In a large skillet over medium heat, add olive oil and butter.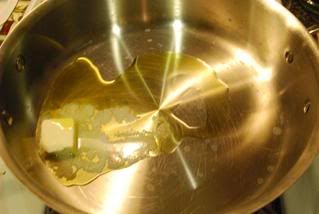 When butter is melted, add in chopped onions and garlic. Stir and allow to cook for two minutes.
Pour in vodka. Stir and cook for three minutes.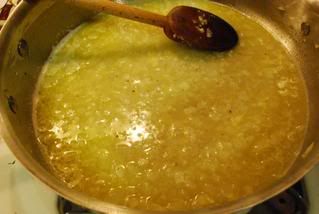 Add in tomato puree and stir.
Allow to simmer, being careful not to overheat.
Stir in red pepper flakes, salt, pepper,
basil if using
and Parmesan cheese.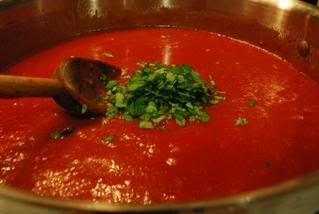 Reduce heat to low and stir in cream.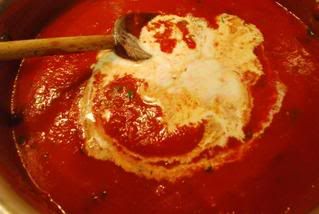 Drain the pasta, reserving 1 cup of pasta water in case sauce is too thick.
Add cooked pasta to the sauce, tossing to combine. Splash in a little water if it needs it,
Stir in Parmesan cheese.
Pour mixture into large serving bowl.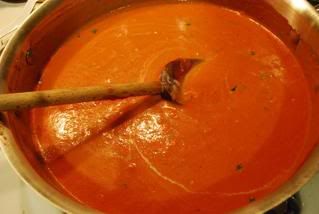 I used leftovers of this sauce to make a pizza during the week and it was even more delicious. This is such an easy, go-to sauce recipe that super tasty!