In other words, Fish Stew. Brazilian fish stew to be exact.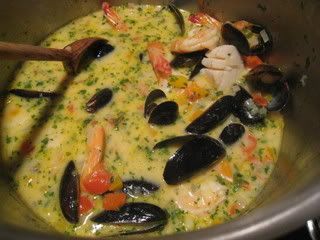 I made this dish for our Valentine's Day dinner. Why did I choose this? The answer is simple. We went to Brazil for our honeymoon and had this exact fish stew in Trancoso. So it was an attempt to bring back those sun-filled breezes and days of leisure from our fabulous honeymoon. It worked! This stew was so delicious. I searched online for recipes and found this one at
The Food Network
. It sounded like it had all the elements we remembered from the Bahian fish stew we enjoyed in Trancoso and it was a great match. The one we had in Brazil had a thicker broth, but I kind of enjoyed that this one was a bit lighter and soupier. More like a stoup - as Rachael Ray always says. What really makes this dish though is the coconut milk. It just screams tropical and brings out the sea in seafood. If that makes any sense. This was easy to put together and so fun to eat. I served it with steamed Basmati rice and ice cold
Caipirinhas
, which was featured in one of my first blog entries.
This dish was so good and photographed so nicely, that I'm submitting this to Joelen's Brazilian Carnivale food contest at
Joelen's Culinary Adventures.
I hope you get a chance to go to Brazil, but if not, let this colorful, flavorful stew bring a piece of Brazil to you. Enjoy!
Moqueca De Peixe
source: The Food Network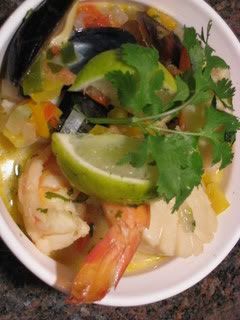 2 tablespoons olive oil
1 medium onion, cut into 1/4inch dice
1 red bell pepper, cored, seeded, and cut into 1/4inch dice
1 green bell pepper, cored, seeded, and cut into 1/4inch dice
1 yellow bell pepper, cored, seeded, and cut into 1/4inch dice
2 plum tomatoes, seeded and cut into 1/4inch dice
1 teaspoon salt
1/2 teaspoon freshly ground black pepper
1 1/2 serrano chiles, stemmed, seeded, and minced
3 cups fish stock or bottled clam juice
1 can (14 1/2 ounce) canned coconut milk
6 green onions, white and light green parts only, finely sliced
1 pound sea scallops
1 pound monkfish fillets, cut into 1inch cubes
I substituted mussels for the fish fillets and am SO glad I did. They were excellent in the stew.
1 pound rock shrimp, shelled and deveined
Juice of 1 lime
2 tablespoons dende oil (see Note)
I just used olive oil because I couldn't find this. Also I think it was the culprit for some...ahem...constipation...I enjoyed while in Brazil. So you might want to leave it out if you're not used to this oil It can be kind of hard on the system. Ok sorry if that was TMI!)
1/3 cup loosely packed cilantro leaves, coarsely chopped
1/3 cup unsweetened coconut shards, lightly toasted, for garnish
2 limes, flesh cut into supremes and diced
Fried plantains, for serving (optional)
Cooked white rice, for serving (optional)
Directions
Heat a large castiron and enamel or other heavy casserole over low heat and add the olive oil. Sweat the onion and peppers together for about 5 minutes, or until nicely softened. Add the tomatoes, salt, pepper, and chiles and cook for 2 minutes more. Add the fish stock and coconut milk and bring the mixture to a simmer.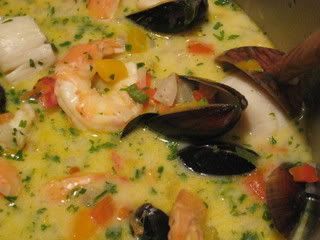 Cook for about 10 minutes, stirring occasionally, until the peppers are tender. Add the green onions and all the fish, cover, and cook for 5 to 7 minutes more, stirring together gently twice during the cooking time. Add the lime juice, dende oil, and cilantro and simmer for 5 minutes more. Serve in large heated bowls, sprinkled with the toasted coconut and diced limes. Offer fried plantains and white rice on the side, if desired.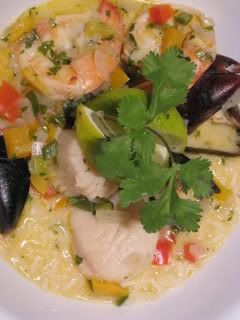 Note: Dende oil is Brazilian palm oil, available in Latin American markets. Be sure to get the Brazilian rather than the West African product, which is much heavier. Or use half the amount of the West African palm oil and substitute vegetable oil for the other half.