WARNING: If you have any reservations about eating rendered bacon fat then put down the mouse and step slowly away from the computer.
Otherwise, you've come to the right place!
This has got to be one of the most unhealthy salads on earth. Why? Two words: bacon grease. You make the dressing out of it, but it's what makes this salad so delicious. Making this salad takes a little more time than your average lettuce bowl. You have to make the bacon, hardboil the eggs, saute the onions and mushrooms and then make the dressing. But it's so worth it!!
I made a few additions to PW's roundup of ingredients. I threw in one chopped avocado and a handful of gorgonzola crumbles as well. So it almost ended up like a cobb salad.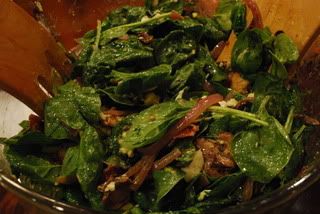 Here's a link to PW's recipe along with step-by-step photos of how to prepare the dish, which she's famous for. I included a photo below of my creation with my special additions.
PW's Spinach Salad with Warm Bacon Dressing
The Recipe for the best spinach salad ever