I adore eggplant. I really love fried eggplant but it's so messy to make and not exactly healthy for you. I find grilling eggplant is a far superior way to go - especially in the summer. The grill adds a smoky flavor and the eggplant really chars up beautifully in a matter of minutes. There's nothing prettier than a set of grill marks on a thick slice of eggplant.
I made these simple rollatini for an appetizer the other night. I thinly sliced an eggplant, drizzled it liberally with olive oil on both sides and then seasoned the slices with salt and pepper.
I threw them over a hot grill until they were softened and nicely charred on each side. Then I took some fresh mozzarella and cut it into strips. I cut some fresh basil from my herb garden and rolled up a strip of mozzarella and a piece of basil inside a slice of my soft, smoky eggplant.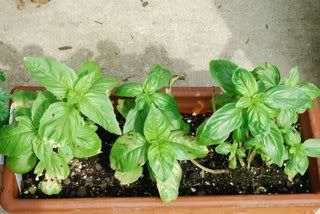 That's an old photo of my basil plants. With all the rain we've had they are huge now!! In fact all my herbs are flourishing, thankfully.
Then I topped it with more fresh basil and a drizzle of sweet aged balsamic vinegar - some of THE BEST stuff on earth.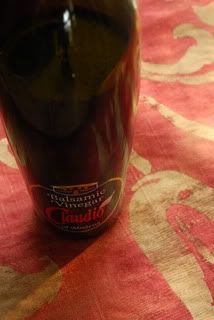 You can buy this in any Italian specialty grocery store. It's not cheap though. It'll run you anywhere from $25 to $100 a bottle, depending on quality. I got this bottle on Market Street in Philly's Little Italy. It's so rich and thick and sweet you would never believe it's vinegar. Scrumptious!