Do souffles remind anyone else of
Superman the Movie
?? Remember that scene where Lois tries to make a souffle and it falls the minute she takes it out of the oven? Then Superman saves it with a simple touch or look or something like that. Fortunately, I didn't have a need for Superman's souffle puffing touch - mine turned out pretty, puffy and tasty. However, souffle still confuses me a bit.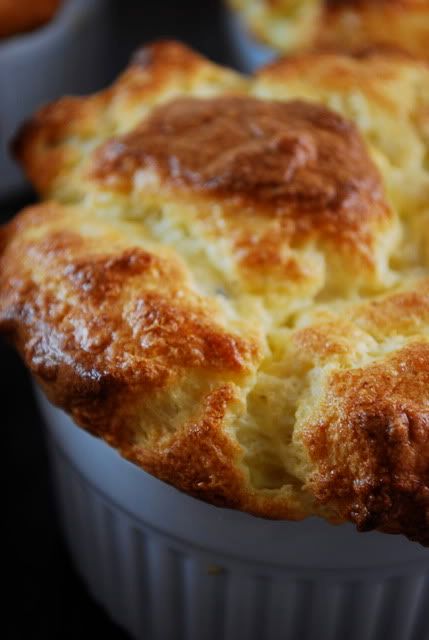 Or maybe I should say, savory souffles confuse me a bit. Sweet souffles I get - they are dessert and they fit neatly into the dessert category. Where do savory souffles go though? Breakfast, lunch, side dish, bread course, main course?? I wasn't really sure how to serve this. Considering I don't usually make elaborate lunches, lunch was out. I guess I could have made this for a weekend breakfast, but I don't think my husband would be too happy about giving up his traditional grand slam for a souffle.
So I served this
Barefoot Bloggers
recipe for dinner as a side dish with some homemade butternut squash soup (which I'll post tomorrow). This seemed to work out well although when my husband dug into the little ramekin his first question was, "What is this? Eggs?". He wasn't completely sold. I can't say I was either. I mean the souffles were tasty enough, but they just seemed kind of pointless and odd. The egginess was a little weird for both of us. And truth be told, I don't really like eggs except for breakfast and once in a while in the occassional quiche. I liked the cheese flavor, but I think in conclusion I'm just not a fan of souffles in general. Oh well, c'est la vie! They do photograph well however, n'est ce pas?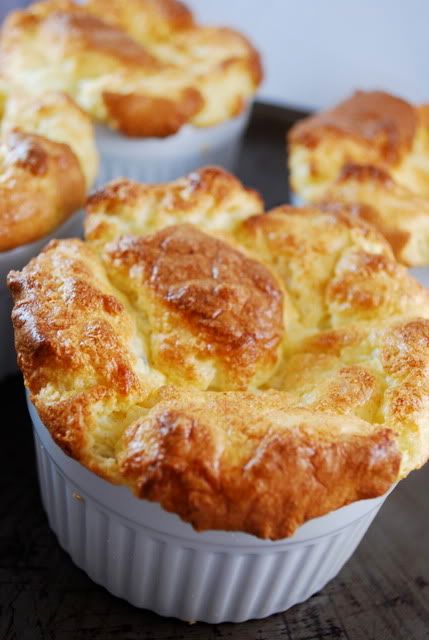 Sorry for the intermittent French - I couldn't resist :) Enjoy!
Blue Cheese Souffle
Barefoot Contessa, Ina Garten
3 tablespoons unsalted butter, plus extra for greasing the dish
1/4 cup finely grated Parmesan, plus extra for sprinkling
3 tablespoons all-purpose flour
1 cup scalded milk
Kosher salt and freshly ground black pepper
Pinch cayenne pepper
Pinch nutmeg
4 extra-large egg yolks, at room temperature
3 ounces good Roquefort cheese, chopped
5 extra-large egg whites, at room temperature
1/8 teaspoon cream of tartar
Directions
Preheat the oven to 400 degrees F.
Butter the inside of an 8-cup souffle dish (7 1/2 inches in diameter and 3 1/4 inches deep) and sprinkle evenly with Parmesan.
Melt the butter in a small saucepan over low heat. With a wooden spoon, stir in the flour and cook, stirring constantly, for 2 minutes. Off the heat, whisk in the hot milk, 1/2 teaspoon salt, 1/4 teaspoon black pepper, the cayenne, and nutmeg. Cook over low heat, whisking constantly, for 1 minute, until smooth and thick.
Off the heat, while still hot, whisk in the egg yolks, one at a time. Stir in the Roquefort and the 1/4 cup of Parmesan and transfer to a large mixing bowl.
Put the egg whites, cream of tartar, and a pinch of salt in the bowl of an electric mixer fitted with the whisk attachment. Beat on low speed for 1 minute, on medium speed for 1 minute, then finally on high speed until they form firm, glossy peaks.
Whisk 1/4 of the egg whites into the cheese sauce to lighten and then fold in the rest. Pour into the souffle dish, then smooth the top. Draw a large circle on top with the spatula to help the souffle rise evenly, and place in the middle of the oven. Turn the temperature down to 375 degrees F. Bake for 30 to 35 minutes (don't peek!) until puffed and brown. Serve immediately.