This is so frustrating! Last Sunday morning I made these delicious whole wheat blueberry pancakes after a quick internet search. I found a recipe that encompassed wheat flour, white flour and oat bran. Perfect! I wanted a hearty pancake that would pack a healthy punch beneath the maple syrup and butter.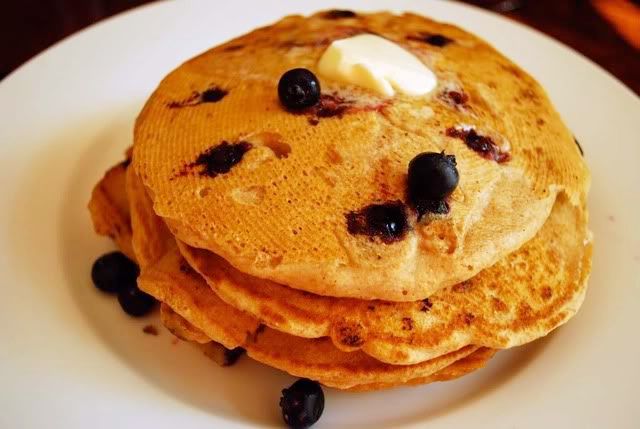 However, I didn't bookmark the page and now I can't find it on a Google search! Either it disappeared or I searched for it under some terms I can't remember. Anyway, I found a recipe that was similar and have posted it below. So I guess these pancakes were really a one time deal in my house since I can't find the recipe again! Oh well. Thankfully there are thousands of whole wheat blueberry pancake recipes to try on the interwebs so I'm sure I'll get by. Enjoy!
Whole Wheat Blueberry Pancakes
Source: Food and Fun Blog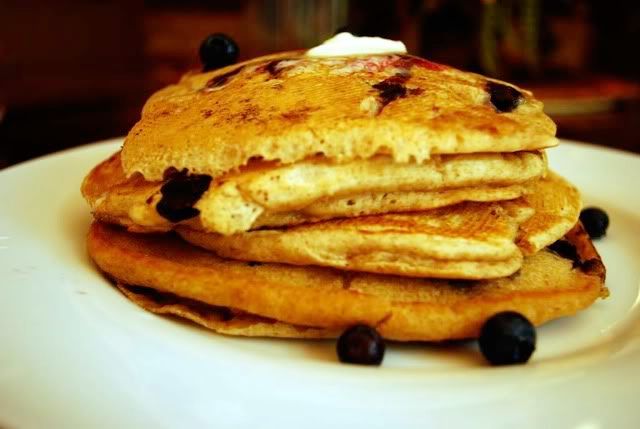 Makes about 6 pancakes
3/4 cup white whole-grain (wheat) flour
1/4 cup oat flour (or Oat Bran)
1 tspn baking powder
1/2 tspn baking soda
1/4 tspn salt
1 cup fresh blueberries (or frozen and thawed)
1 cup buttermilk (or milk)
1 large egg - lightly beaten
2 tbsp butter - melted
Method
Combine the flour, baking powder, baking soda, sugar, and salt in a large bowl. Add the buttermilk, eggs, and melted butter to this.
Stir all the remaining ingredients until they are just combined. Don't worry if the batter is a bit lumpy, you don't want to over mix. Finally fold in the blueberries.
Heat your skillet, pan, or griddle to medium-hot and brush it with a bit of butter. (If a drop of water dropped onto the pan starts to sizzle, the pan is hot enough). Now pour about 1/3 of a cup of batter into the skillet. Wait until the pancake bottom is deep golden in color (about 30 seconds), then flip with a spatula and cook the other side until golden and cooked through. Repeat with the remaining batter.