Don't be intimidated! That's just a fancy way to say, "Fried Chicken Sandwich". It's also, a fancy way to make it as well, or at least it looks fancier than your typical fried chicken sandwich.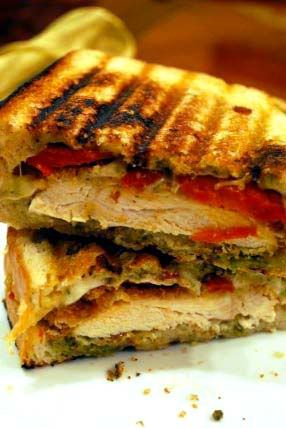 First, I breaded the chicken in flour, egg and then a parmesan/bread crumb mixture. Then I pan fried it olive oil until juicy and tender. I heated my beautiful
Mario Batali Panini Press
and went to work constructing my paninis.
I used some soft, pre-sliced sourdough bread from my store's bakery. Try to look for large slices of bread - they make the best paninis because the large surface area helps keep the sandwich together and avoids having to stack your ingredients too high between the bread.
I generously spread
pesto sauce
on both slices of bread. Then I layered on the fillings - roasted red peppers, provolone cheese and my breaded chicken.
I oiled my hot panini press by brushing the bottom and the heavy cast iron lid with olive oil. Then I put my sandwiches in, enjoyed the sizzle, and placed the lid on top. I kept an eye on them to prevent burning and flipped them once in the process, since the top lid never gets as hot as the bottom pan.
These were delicious - the sweet roasted peppers, nutty pesto, breaded chicken and rich provolone were a great combination. I served them with bowls of soup, but they could have easily made a meal in themselves.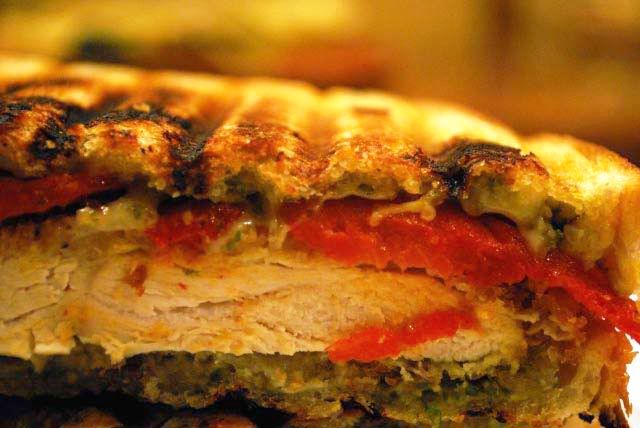 So get creative! Heat up your panini press - or get a large brick from the hardware store - and throw together some good ingredients. You'll be saying "Panini's ready" in no time! Enjoy!