Wow. This meal tastes as rich as it sounds. I saw it on
The Pioneer Woman's blog
and fell instantly in love. It encompassed some of my favorite things, steak (check), onions (check) and blue cheese (double check with a million plus signs!). This sauce is versatile and can easily be served with chicken, pork or even on top of hamburgers...yum. And it was simple to make too! I served this with a green salad and the hubs and I felt like we were back in Arizona eating at The Cowboy Saloon. Giddy up!
Grilled Ribeye Steak with Onion-Blue Cheese Sauce
The Pioneer Woman
2 ribeye steaks
2 tablespoons butter
Salt
Pepper
4 tablespoons butter
1 very large yellow onion
3/4 to 1 cup heavy cream
1/2 cup crumbled blue cheese
Salt and pepper both sides of the steaks. Grill in 2 tablespoons butter until medium rare.
Saute onions in 4 tablespoons butter over high heat. Cook for 5 to 7 minutes, or until dark and caramelized. Reduce heat to simmer and pour in cream. Cook for 3 to 5 minutes, or until reduced by half. Stir in blue cheese until melted. Serve steaks on generous portion of sauce.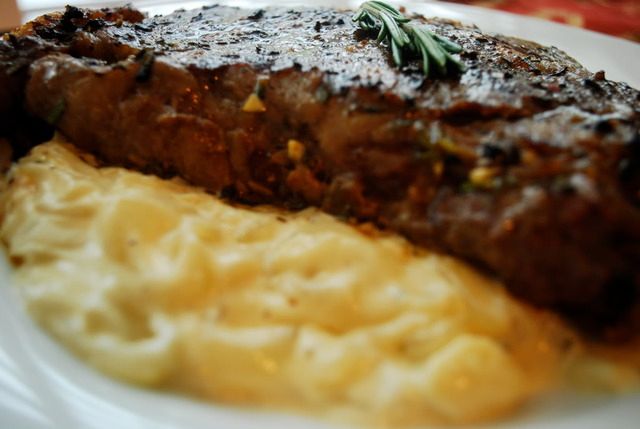 Swoon - isn't that a thing of beauty??