I really love eggplant. I've grilled it, fried it, baked it and sauteed it. It's one of those vegetables that to me could substitute easily for meat in a dish. But it also goes great with meat - like lamb and beef. I found this recipe on
Smitten Kitchen's
blog. She has a great round-up of recipes with short and sweet write-ups and beautiful pictures. She has one of those blogs that inspires me to cook more and try harder! When I saw this recipe, it reminded me of an eggplant dish I had at a local restaurant not too long ago. This was a bit different, as the restaurant dish was stuffed with a mixture of lentils and rice and then topped with a tzatiki sauce of sorts. This particular eggplant of Smitten Kitchen was stuffed with a meat and rice mixture - much more up my husband's alley - and sauced with a tomato-based sauce.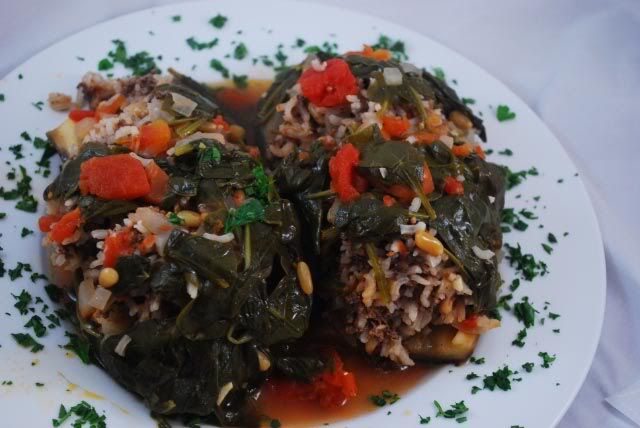 I had to change a few things for a few reasons. One - I couldn't find tiny eggplants. So I bought two larger eggplants thinking I'd just hollow out and stuff those. This plan was fine until I cut open one of my larger eggplants to reveal a little, well actually not so little, green worm. In fact, my cut into the eggplant chopped his little worm body directly in half. I screamed - I know, so girlie - and then moved on...with only one eggplant to my name of course. So I had to construct the recipe a bit differently. I cut the one eggplant in half, lengthwise, hollowed it out like a canoe and then stuffed it with way too much meat mixture, because I had made enough for two eggplants of course. Oh well. It still turned out super tasty if not super-sized. I added one bag of baby spinach to the sauce too just to get some greens in there. Overall a nice recipes. I think next time though, I'll try lentils and rice. And maybe a little tzatiki sauce...ENJOY!
Lebanese Style Stuffed Eggplant
Gourmet Magazine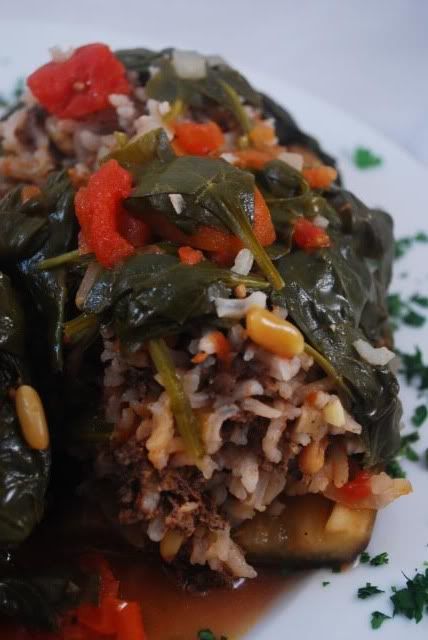 6 (5- to 6-inch long) bambino (also called Baby Bell) eggplants (about 6 ounces each)
1/2 cup long-grain or jasmine rice
1/4 cup olive oil
3 tablespoons pine nuts
1 large onion, finely chopped
2 garlic cloves, finely chopped
2 cups chicken stock or reduced-sodium chicken broth
1 (14 1/2-oz) can diced tomatoes in juice
3/4 lb ground lamb or beef chuck (not lean)
1 teaspoon ground allspice
1/2 lemon
3 tablespoons chopped flat-leaf parsley
Hollow out each eggplant with a melon-ball cutter, working from bottom end and leaving about 1/3 inch eggplant flesh along interior walls. Rinse rice in a sieve under cold water until water runs clear. Drain well.
Heat oil in a 12-inch heavy skillet over medium-high heat until it shimmers. Fry pine nuts, stirring frequently, until golden, about 3 minutes, then transfer with a slotted spoon to a bowl. Sauté onion and garlic, stirring occasionally, until golden, 6 to 8 minutes. Transfer 1/2 cup onion mixture to bowl with pine nuts. Add stock, tomatoes, 3/4 teaspoon salt, and 1/4 teaspoon pepper to skillet and simmer, uncovered.
Add uncooked rice, ground beef (uncooked), allspice, one teaspoon salt, and 1/2 teaspoon pepper to bowl with onion mixture and mix well with your hands.
Stuff eggplant with meat mixture, being careful not to pack tightly (rice will expand during cooking). Transfer stuffed eggplants to skillet with tomato sauce and simmer, covered, carefully turning once, until rice is cooked through, 50 minutes to one hour (cut one in half to test). Check in on your dish periodically.
If sauce is watery, transfer eggplant to a plate and boil sauce, stirring occasionally, until thickened slightly, 3 to 5 minutes, then adjust seasoning if necessary. Return stuffed eggplant to sauce. Squeeze lemon over dish and sprinkle with parsley before serving.