I'm a little late with the first recipe of the month for
Barefoot Bloggers
, but better late than never! I didn't get to Barefoot last month - mainly because the challenge was to bake two different chocolate cakes. I'm not much of a cake fan for one and for two I'm not about to have two cakes sitting around my house to eat. I'll be gaining enough weight in the next few months on my own - I don't need two cakes to help me out. So sorry fellow BBers, but I just couldn't bring myself to bake two cakes for just my husband and myself.
This soup however, was a different story!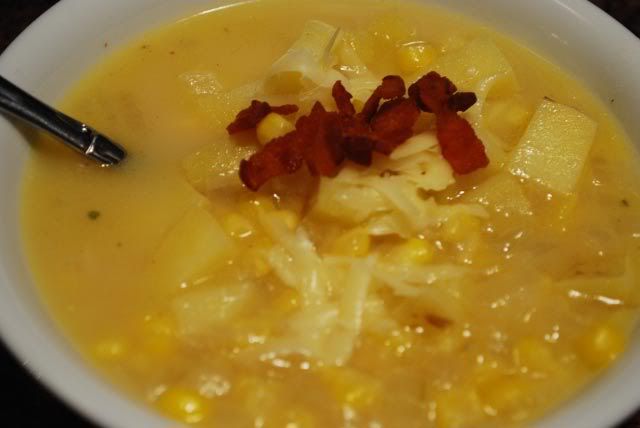 I was very excited about making this soup, as I love homemade soups on brisk fall days. We had a perfect Sunday for this soup and I served it up for my family with some Salmon BLT wraps. Yum! This recipe makes a ton of soup - and I halved it. So beware! I halved it and it fed five people, plus yielded two tupperware containers of leftovers, which I froze. I found this to be a foolproof, easy recipe though with tasty, comforting results. Definitely take some time to make this hearty soup this fall. Enjoy!
Cheddar Corn Chowder
Ina Garten, Barefoot Contessa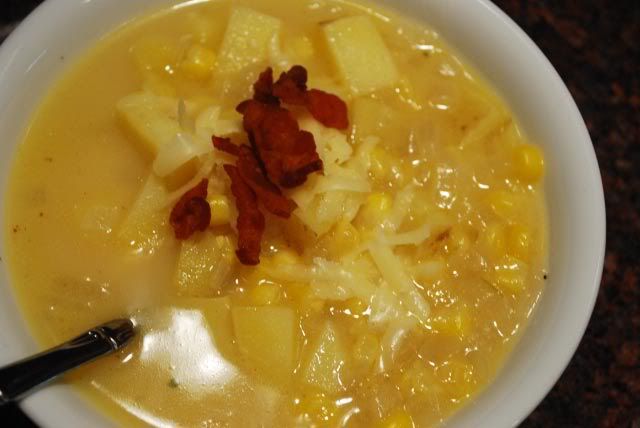 8 ounces bacon, chopped
1/4 cup good olive oil
6 cups chopped yellow onions (4 large onions)
4 tablespoons (1/2 stick) unsalted butter
1/2 cup flour
2 teaspoons kosher salt
1 teaspoon freshly ground black pepper
1/2 teaspoon ground turmeric
12 cups chicken stock
6 cups medium-diced white boiling potatoes, unpeeled (2 pounds)
10 cups corn kernels, fresh (10 ears) or frozen (3 pounds)
2 cups half-and-half
8 ounces sharp white cheddar cheese, grated
Directions
In a large stockpot over medium-high heat, cook the bacon and olive oil until the bacon is crisp, about 5 minutes. Remove the bacon with a slotted spoon and reserve. Reduce the heat to medium, add the onions and butter to the fat, and cook for 10 minutes, until the onions are translucent.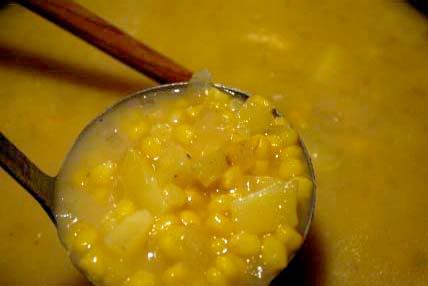 Stir in the flour, salt, pepper, and turmeric and cook for 3 minutes. Add the chicken stock and potatoes, bring to a boil, and simmer uncovered for 15 minutes, until the potatoes are tender. If using fresh corn, cut the kernels off the cob and blanch them for 3 minutes in boiling salted water. Drain. (If using frozen corn you can skip this step.) Add the corn to the soup, then add the half-and-half and cheddar. Cook for 5 more minutes, until the cheese is melted. Season, to taste, with salt and pepper. Serve hot with a garnish of bacon.