This is a quick post! I made this chicken dinner last week and finally have a minute now on Sunday to post. I say only a minute because I'm in between baking homemade peach muffins, making homemade peach ice cream, and starting dinner. Basically, I have peaches coming out of my...well you know. I went peach picking on Friday and came home with a bounty. But that's another post. For now, it's the chicken. This was a Rachael Ray recipe from her magazine in May 2008. I made a few variations to the recipe however. Instead of using orzo, I put the chicken on a bed of basmati rice. Why? Because I thought the flavor combinations would be out of this world. No not really. Mainly just because I had basmati rice and didn't have orzo.
Secondly, she uses dill and jarred hot cherry peppers. I used fresh oregano and jarred roasted red peppers. The combo of dill with the other flavors seemed odd to me. But also, I have oregano growing on my patio and I don't have dill. Again, changes of convenience. Also, I pounded my chicken breasts and dipped them in flour before pan sauteeing them. Rach doesn't do that. Anyway, here you go!
Chicken With Artichokes, Roasted Red Peppers and Basmati Rice
2 chicken breasts
1/4 cup flour
2 tablespoons of olive oil
1 tablespoon of butter
1 can of artichoke hearts, chopped or cut in half if you prefer
1 8oz. jar of roasted red peppers
3 tablespoons of chopped fresh oregano
1/2 of a vidalia onion, chopped
2 garlic cloves, chopped
1/2 cup dry white wine
1/2 cup chicken broth
2 cups basmati rice, prepared according to package directions
Lay your chicken breasts on a cutting board and cover with plastic wrap. With your meat tenderizer or hammer, flatten the chicken breasts.
Then sprinkle the breasts with salt and pepper on both sides and then coat with your flour. In a saute pan, combine your olive oil and butter over medium heat. Once hot, add your chicken breasts. Cook for about 5 mins. on each side until golden brown.
Remove from the pan and set aside, tent with foil to keep warm. Add another tablespoon of olive oil to your pan and then add the onion and garlic.
Saute in the chicken drippings until softened. Then add the wine, chicken broth and oregano.
Boil until reduced by half, scraping up the chicken bits as you stir.
Meanwhile, chop your artichokes and drain your roasted red peppers.
Once the liquid has reduced, add them to the pan until heated through. Season lightly with salt and pepper.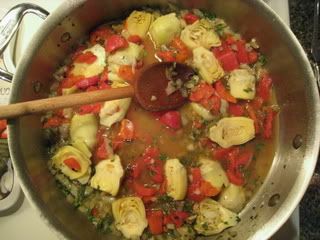 Finally return your chicken cutlets to the pan to reheat and bring the flavors together.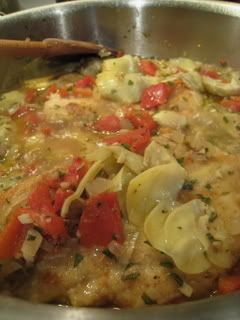 Remove from the heat. Place your chicken over a large spoonful of rice, then spoon your artichoke mixture over top, garnish with a sprig of oregano if you'd like and serve. Enjoy!