Usually every Sunday we try to get together with family for dinner. And it's usually my job to come up with the menu and prepare the food, with some help from my mom who usually takes care of the salad and accompanies me on the food shopping trip. Oh and she also normally always preheats the grill - an important job. Basically, she takes the duties my husband assumes during weeknight meals, well minus the salad making. He can make sandwiches and reservations. That's about it. But I don't complain because I love to cook and mostly other people in the kitchen tend to just get in the way and mess up the rhythym - well the rythym I think I have.
The good thing about being in charge of the menu is that I get to eat what I'm in the mood for - of course with some input from the other guests. This past Sunday I was craving Asian-style food. I came across these two recipes from one of my favorite Food Network Chefs, Ina Garten, aka The Barefoot Contessa. The flavors sounded exactly what I was looking for and the recipes definitely delivered. Of course, I made a few small additions or substitions, but mostly stuck to the recipes. It made a great, light summery meal for a hot August evening. So give them a try and spend an evening in the Orient without even stepping out your front door!
Eli's Asian Salmon
Recipe from www.foodnetwork.com, Ina Garten
I eliminated the panko and instead of oven roasting, I grilled the fish. I also added a 1/4 cup of chopped fresh cilantro.
2 1/4 pounds center-cut salmon fillet (1 1/2 inches thick)
1 cup soy sauce
1/4 cup rice vinegar
1/4 cup freshly squeezed lemon juice (2 lemons)
2 tablespoons oyster sauce
1 tablespoon fish sauce
1 tablespoon toasted (dark) sesame oil
1 1/2 teaspoons chili paste
1/2 cup sliced scallions (2 scallions)
2 tablespoons minced garlic (8 large cloves)
2 tablespoons minced fresh ginger (Lisa's note: I used dried, 1 teaspoon, and it was fine)
1 1/2 cups panko (Japanese bread crumbs)
Line an 8 by 12-inch baking pan with aluminum foil. Place the salmon in the pan.
In a mixing cup, combine the soy sauce, rice vinegar, lemon juice, oyster sauce, fish sauce, sesame oil, chili paste, scallions, garlic, and ginger.
Pour 1/3 of soy sauce mixture over the salmon fillet. Sprinkle the panko evenly over the fillet. Pour the rest of the soy sauce mixture evenly over the panko. Be sure to soak the panko completely and if any runs off, spoon back onto the salmon. Set aside for 15 minutes, leaving all the sauce in the pan.
Meanwhile, preheat the oven to 500 degrees F. Roast the salmon for 18 to 20 minutes, or for about 12 minutes per inch at the thickest part of the salmon. The internal temperature will be 120 degrees F on a meat thermometer when it's done. Remove from the oven, wrap tightly with aluminum foil, and allow to rest for 15 minutes. Serve hot or at room temperature.
Crunchy Noodle Salad
Recipe from www.foodnetwork.com, Ina Garten
I used whole wheat spaghetti and also did a 1/2 pound of sugar snap peas and 1/2 pound of snow peas. I also added two cups of slightly steamed broccoli florets and a pint of grape tomatoes, halved.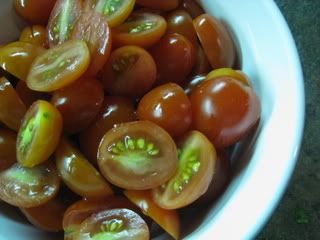 I also used half of one red bell pepper and half of one yellow bell pepper to help add some more color. I also added 3 tablespoons of fresh chopped cilantro.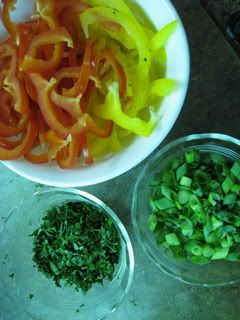 Kosher salt
1/2 pound thin spaghetti
1 pound sugar snap peas
1 cup vegetable oil
1/4 cup rice wine vinegar
1/3 cup soy sauce
3 tablespoons dark sesame oil
1 tablespoon honey
2 garlic cloves, minced
1 teaspoon grated fresh ginger
3 tablespoons toasted white sesame seeds, divided
1/2 cup smooth peanut butter (I only had natural peanut butter so I added about another teaspoon of honey to sweeten it up just a bit more)
2 red bell peppers, cored and seeded, and thinly sliced
4 scallions (with and green parts), sliced diagonally
3 tablespoons chopped fresh parsley leaves
Bring a large pot of salted water to a boil. Add the spaghetti and cook according to package directions. Drain and set aside.
Meanwhile, bring another large pot of salted water to a boil, add the sugar snap peas, return to a boil, and cook for 3 to 5 minutes, until crisp tender. Lift the sugar snap peas from the water with a slotted spoon and immerse them in a bowl of ice water. Drain.
For the dressing, whisk together the vegetable oil, rice wine vinegar, soy sauce, sesame oil, honey, garlic, ginger, 2 tablespoons sesame seeds and peanut butter in a medium bowl.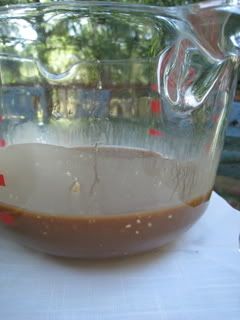 Combine the spaghetti, sugar snap peas, peppers and scallions in a large bowl. Pour the dressing over the spaghetti mixture.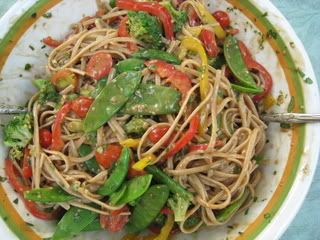 Add the remaining 1 tablespoon of sesame seeds and the parsley and toss together.