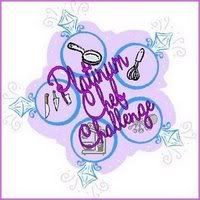 Becoming a food blogger has been so much fun for me. It's not only a way to share my cooking and love for food, but a great way to stretch your creativity and work outside your comfort zone. I discovered this Platinum Chef Challenge,
Platinum Chef Challenge #8
, on the What's Cooking message board on thenest.com. I have seen similar challenges in Rachael Ray's magazine - she gives you five ingredients and you have to create 2 dishes using all the ingredients. The Platinum Chef Challenge was created by a food blogger! So this is my first time participating and I have to say, it has been challenging and fun coming up with these recipes.
I looked for inspiration EVERYWHERE! I was thinking about eggplant, olives and tofu in my car, at work, even in my sleep. Plums and oats were a little harder for me because I'm not a baker by nature and I knew I wanted to do something sweet with those. For my main dish, I was inspired by a scallop appetizer I got at a local restaurant. Three plump little scallops were panko-encrusted and sauteed then topped with pesto. The plate was dressed with a light marinara. I thought, what if those scallops were tofu chunks and you put them on a piece of grilled eggplant and topped them with olive tapenade and dressed the plate with a tomato sauce. It turned out DELICIOUS! I was surprised because I'm not a big fan of tofu, but the crunch of the panko really gave it a great texture. My dessert is a little more banal - a rustic plum tart. I put a few twists on it though.
I'm a little nervous putting my recipes up there for critique, but that's what it's all about. Learning from others and yourself. The five ingredients were eggplant, tofu (this one scared me since I've never worked with tofu before!), olives, plums and oats. Here's what I came up with:
Vegetarian Surf & Turf: Grilled Eggplant Steaks served with Panko-Encrusted Tofu "Scallops", Kalamata olive tapenade and a grilled tomato coulis
1 large eggplant, cut lengthwise into 1-inch thick slabs
1 package extra firm tofu
(Tofu tip: Before sauteeing your tofu, place it on a plate on top of two paper towel,. Put another plate on top of that and weight it down with something heavy, like jars of tomato sauce. Let the water leach out of the tofu for about 10 minutes. The less water in your tofu the better it will saute. I can thank my vegetarian friend Jo-Anne for that tip!)
2 cups panko bread crumbs
1 tb Italian seasoning
1 pint of grape tomatoes
1 tablespoon of garlic
3 tablespoons of chopped, fresh thyme
2 tablespoons of chopped, fresh basil
olive oil (you'll be using it for the tofu, eggplant and tomatoes)
1 cup Kalamata olive tapenade (recipe below)
salt and pepper
Preheat an outdoor grill. Put some olive oil in a bowl and with a pastry brush, brush oil on both sides of your eggplant slabs, or "steaks". Once they are oiled, sprinkle them with salt and pepper as well as 1 tb of your chopped fresh thyme. Spray your grill with cooking spray and place your eggplant steaks down. Cook for about 5 minutes and then flip. You want to see some nice grill marks on your eggplant but you don't want it to overcook and become mushy and fall apart.
Meanwhile, rinse your tomatoes and place into a small foil pan. Toss with 2 tablespoons of olive oil, the garlic and the remaining tablespoon of thyme. Season well with salt and pepper and place the foil pan on the grill.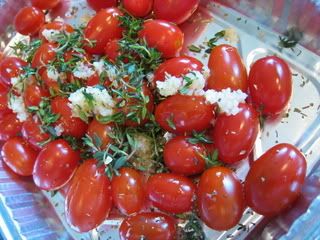 Once the tomatoes start to cook down and soften, stir them a bit. Allow the juices to thicken slightly on the grill. Once they appear done, 15 minutes tops, remove them along with your eggplant slices. Set aside.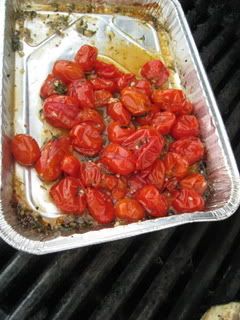 While your tomatoes cool a bit, cut your tofu into 1 1/2 inch cubes. If you have a small biscuit cutter you can use that too if you prefer for round, more scallop looking tofu. Mix your panko bread crumbs with the Italian seasoning and then roll your tofu cubes in the bread crumbs until well-covered.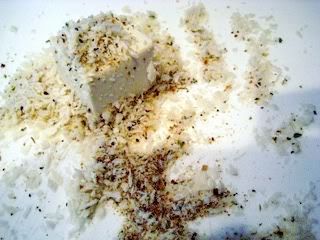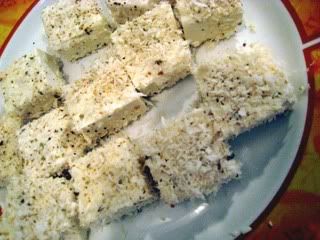 In a deep skillet or saute pan, heat two tablespoons of olive oil along with 1 tablespoon of vegetable oil over medium heat. Once the oil is hot, add your tofu cubes. Keep an eye on them, cook until crispy and then flip, about 3-5 minutes on each side. If they are burning, turn your heat down a bit. Flip them until they brown on the other side and remove them to a platter and tent loosely with foil to keep them warm.
Next, put your cooked tomatoes in the food processor along with your chopped basil and process until smooth. If it's too thick, you can stream in some olive oil, but you don't want it too runny so be careful not to add too much. If you want a creamy sauce, you can add a tablespoon of ROOM TEMPERATURE cream or half and half to the sauce. It's just as creamy though without it because of the olive oil.
Now you're ready to plate. Dot your plate with your tomato coulis. Place an eggplant steak in the middle of your plate, top with three to four tofu "scallops". Top each tofu "scallop" with a tablespoon of olive tapenade and garnish with a few basil leaves and enjoy.
Kalamata Olive Tapenade
I modified this recipe from Emeril Lagase's recipe on foodnetwork.com for Olive Tapenade. I left out a few things he adds and my measurements were a bit different. Here's a closeup of it on top of the tofu: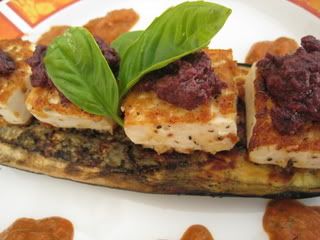 1 10oz jar of pitted Kalamata olives, drained and rinsed
4 anchovy filets
2-3 garlic cloves
1 teaspoon of dijon mustard
juice of half of a lemon
3 tablespoons of extra-virgin olive oil, eyeball it, whatever you need to make the consistency what you want
2-3 tablespoons of chopped fresh thyme leaves
1/2 teaspoon of crushed red pepper flakes
pepper
Throw all of the following ingredients in the food processor, season with pepper to taste and process until smooth. You want a paste-like consistency. You can stream in more olive oil if it's too thick. Taste for seasonings, you can adjust to your liking, and serve. Tapenade is great as a sandwich topping, dip with crackers and goat cheese or feta cheese, or on top of vegetables, seafood or chicken. Enjoy!
Rustic Plum Tart with Ricotta Cheese and Crumb Topping
This recipe is a modified combination of the Rustic Fall Fruit Tart recipe from kraftfoods.com and a crumb topping recipe from Food&Wine Magazine. I added the ricotta as my own twist.
For the tart:
1 and 1/2 cups flour
1/2 cup butter
1/2 cup Philadelphia cream cheese
4 ripe plums, sliced thinly
1/2 teaspoon ginger
1/2 teaspoon cinnamon
1 tablespoon of sugar
1/2 cup ricotta cheese
1 tablespoon of honey
For the crumb topping:
3/4 cup flour
1/3 cup light brown sugar
1/2 teaspoon baking soda
1/2 teaspoon salt
1/2 cup rolled oats
5 tablespoons of butter
For the tart: Preheat the oven to 400 degrees. Process the flour, butter and cream cheese in a food processor ubtil it forms a ball. Remove from the processor, wrap tightly with plastic wrap and refrigerate for an hour. After it has been refrigerated, roll it out onto a floured surface. Form it into a 12-inch circle and transfer to a greased baking sheet.
In a bowl, mix your plums with the ginger, cinnamon and sugar. In a separate bowl, mix your ricotta and honey.
Spread the ricotta mixture over your pie crust, leaving a 2-inch border.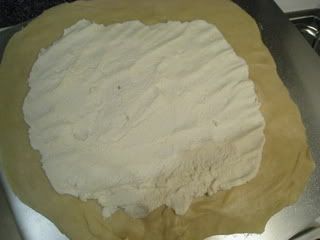 Then top with your plums and fold the sides of the crust in.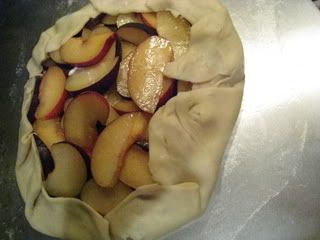 Now you can make your crumb topping. Combine all the dry ingredients in a bowl and mix to combine.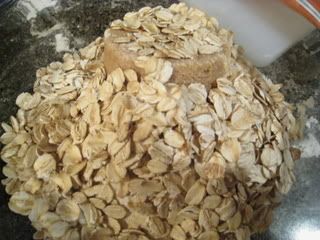 Cut your butter into cubes and with a pastry cutter cut your butter into the dry ingredients. You will end up with a pebbly mixture. Sprinkle it down over the top of your tart. Throw in the oven and bake until golden brown and bubbly, about 30-45 minutes depending. It took mine the full 45 minutes. Remove, let cool and serve with vanilla ice cream.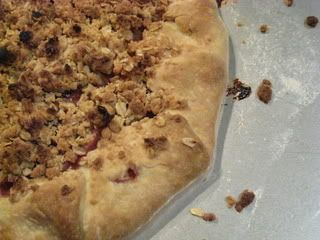 WHEW!!! That was a loooonnnnngggg post. Thanks for hanging in there with me.