Extra! Extra! Read all about it! That post title sounds like a newspaper article headline. Anyway, I digress. So last night's dinner was inspired by a number of factors: I had a craving for grilled steak, I had a sleu of grilling spices sent to me by the lovely Joelen from Joelen's Culinary Adventures, (See pics)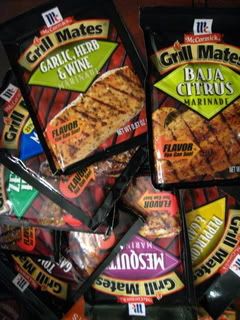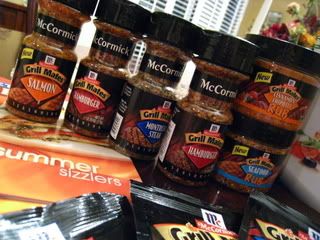 and I had a pint of garden tomatoes graciously given to me by a co-worker. As you can see, the whole plan was all about me. My husband gets pretty much no say in dinner. I am a kitchen nazi. No - seriously I'm just kidding. But not really because if he had his say in dinner we'd be eating canisters of Pringles, Ledo's pizza and buffalo wings every night. We'd be 300 pounds and our asses would be fused to the couch. I'm not kidding. It's not that he doesn't enjoy good, healthy food but he would never choose or prepare it for himself. That's where I come in.
This meal was quite healthy. I made a grilled corn and vegetable salad, marinated the steaks in my Montreal Steak marinade from McCormick, pictured above, and served it with the grilled naan I rave about below. See - the blog is coming full circle!
The Montreal marinade was very good on the steaks. You can see the big spices in there: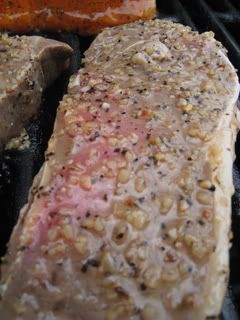 Ohhh....ahhhh.
When they came off we topped them with some crumbled gorgonzola cheese. Because that's how we rolls, all gourmet and shizzznitty.
And served them up with this great summer vegetable salad.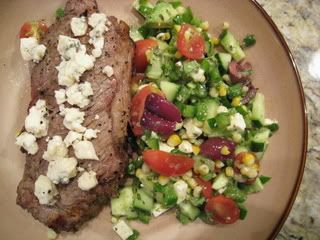 Grilled Corn and Vegetable Salad
1 jar of pitted kalamata olives, sliced
1 English cucumber, diced
1 green pepper, diced
1 avocado, diced
1 pint of grape tomatoes, sliced in half
1/2 cup chopped green onions
4 sprigs of fresh oregano, chopped
a handful of basil leaves, shredded
4-6 ounces feta cheese, cubed
4 ears of corn
2 tablespoons of olive oil
For dressing:
juice of one lemon
1/2 cup olive oil
1 tablespoon dijon mustard
salt and pepper to season
Chop all your vegetables accordingly and put them in a bowl. Add your feta cheese. Set aside.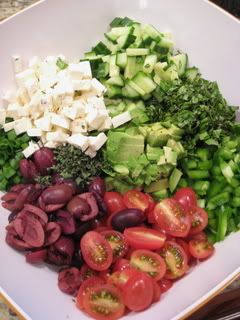 Slather your ears of corn with the olive oil, season with salt and pepper and place on a hot grill. Grill until the kernels begin to char up a bit and get soft. Remove from the grill and let cool. Once cool, cut the kernels off the cobs and toss with the rest of your veggies.
In a bowl, whisk together your dressing and pour over the vegetables. Toss together and serve.