It doesn't matter who's wrong or right, just beet it!
Do you think Michael Jackson was talking about those beautiful ruby red vegetables? The ones that stain your hands and clothes, pack a punch of vitamins and can be served pickled, roasted or boiled? Well, probably not - although he is strange enough to write a song about beets. So for the purposes of this blog entry the theme is beet it!
Last week I took a trip to a local "pick-your-own" farm out in scenic Howard County called
Larriland Farm
, and picked my own beets, peaches and nectarines. Since I grew up in Howard County, this farm holds many happy childhood memories for me.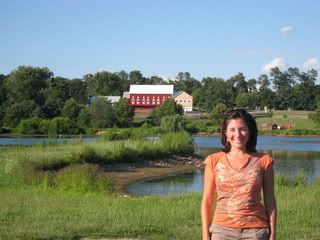 Every Halloween we would pick pumpkins at their patch, run through the hay maze, eat caramel apples and apple fritters and occasionally stuff our own scarecrow. And back then, the place was never crazy crowded, just pleasantly packed. Today, its a veritable zoo. Not only has the population in Howard County grown exponentially, but the pastoral setting attracts visitors from several neighboring, and non-neighboring, counties. While I hate crowds, I can't blame them because Larriland is well worth the trip. But go on a weeknight if you can find the time because the weekends are nearly as busy as Kings Dominion. Especially in the height of peach season, apple season and pumpkin season.
Fortunately, I was able to go with a friend on a gorgeously non-humid late Friday afternoon. We practically had the whole farm to ourselves - especially the beet patch.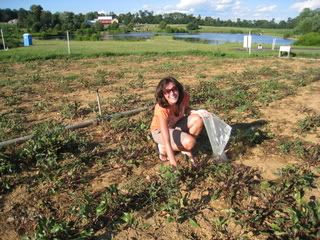 That's me grabbing the beet by the leaves and wrestling that bad boy free from the dirt. It's a hard job but some body's got to do it! Anyway, I walked away with about 7 beets to my name. Dirty little suckers! They were covered, no make that caked, in dirt.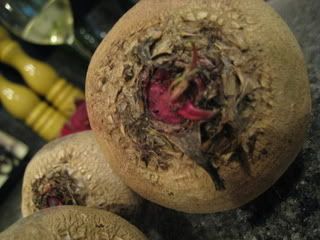 In between scrubbing these babies clean, I rooted through my cookbooks for some beet recipes. I've made roasted beet salad with goat cheese before but I was looking for something a little different this time. And I found it. I got married this past June, and at my bridal shower in May I got a wonderful cookbook as part of my loot called,
The Wine Lover Cooks with Wine: Great Recipes for the Essential Ingredient by Sid Goldstein
. It's the perfect cookbook for me because, well I love wine - drinking it, cooking with it, bathing in it...did I say that out loud? No just kidding. But seriously, I always cook with wine - even when the recipe doesn't call for it, if you catch my drift.
So in this beautifully appointed cookbook, I found a recipe for roasted beet risotto. This recipe was also perfect because I can finally use one of my favorite wedding gifts, my absolutely gorgeous hammered copper risotto pan from Williams-Sonoma. Gaze upon its beauty: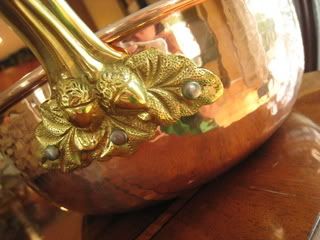 This is true love people. Ahhhh.....copper. Smells. So. Good. Acorns...pretty. Hand hammered uniformity. Ok let me recompose myself.
So the recipe. I didn't have syrah so I substituted the dry red wine I did have open, which was an Italian blend. It worked just fine. I served this delectably blood red risotto with a piece of juicy grilled swordfish, marinated in fresh rosemary and McCormick's Italian Herb marinade spice mix. It was the perfect complement. I know this risotto isn't the prettiest thing - it is severely purple - but the flavor was truly outstanding. Even my husband, who isn't too fond of beets or risotto (he says he had rice overkill growing up with a Brazilian mother and now he just can't stand rice) liked it. So enjoy!
Cooks note about risotto: This is a labor intensive dish to cook. It involves a lot of babysitting and constant stirring. I've found that the trick to making a successful risotto is keeping your chicken stock warm so that when you add it to the risotto it doesn't change the temperature. It allows for a much more even cooking time. Roasted Beet and Gorgonzola Risotto with Syrah and a Walnut-Parsley Pesto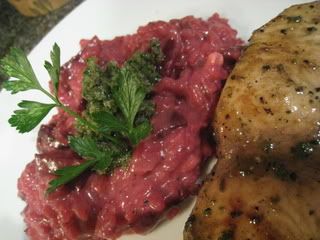 For the pesto:
1 large handful of fresh Italian parsley
1/4 cup walnuts
1 teaspoon of minced garlic (I like to use the jarred minced garlic in pestos because really fresh, raw garlic is harsh on the stomach. Roasted garlic would be really good, but I didn't have any)
1/4 extra virgin olive oil
Salt and pepper
Place your parsley, garlic and walnuts in the food processor or blender. Season with salt and pepper and put your lid on. Stream in the olive oil while pulsing until the pesto is blended - it will have a coarse consistency.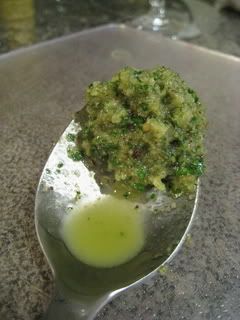 Remove from the processor and set aside.
For the risotto:
4 beets, peeled and cut into large slices
4 tablespoons of extra virgin olive oil
2 tablespoons of butter
1/2 of a vidalia onion (it calls for the whole thing but I don't like that much onion)
1 large shallot
1 1/2 cups of Arborio rice
1 cup of Syrah, or other dry red wine
4 cups of chicken stock (have more on hand just in case)
3/4 cup crumbled gorgonzola cheese
salt and pepper to taste
Throw your cleaned and cut beets into a roasting pan, toss with two tablespoons of olive oil, sprinkle with salt and pepper and roast for 45 to 50 minutes in a 375 degree oven until they become soft on the inside and slightly crispy on the outside.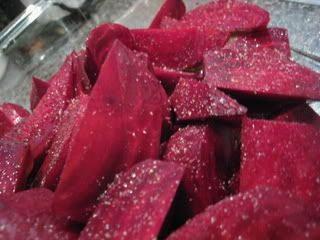 Once they are done, let them cool slightly and then chop into smaller pieces that you can eventually stir into your finished risotto.
Meanwhile, finely chop your onion and shallot. Over medium heat, heat the remaining olive oil along with your butter in your beautiful hammered copper risotto pan (I know, I'm rubbing it in). Add your onion and shallot and cook until translucent, about 7 to 10 minutes. Then add your arborio rice and toss often, allowing the rice kernels to toast up a bit, about 7 to 10 minutes. This helps them absorb the liquid more efficiently.
Then add your cup of wine and stir until the liquid is nearly completely absorbed. In a saucepan, heat your 4 cups of chicken stock over medium low heat. Once warm, add it to your risotto one cup at a time, stirring occasionally so your rice doesn't stick or burn. If the liquid is evaporating too quickly in your risotto pan, turn your heat down to medium low. You'll have to find the perfect temp on your range.
Once all the liquid has been absorbed and your rice is cooked to al dente, remove the pan from the stove. Add your chopped beets and crumbled gorgonzola and stir. Season with salt and pepper as needed and serve with a dollop of the walnut-parsley pesto on top. Enjoy!
Chef's note: I can't gaurantee the flavor of this risotto if it has not been cooked using the beautiful hammered copper risotto pan pictured above with the darling little acorn embellishments. Sorry!
heehee :) I know, I suck.