I certainly don't need any more at least! As mentioned in my post below, I went peach picking a few days ago at
Larriland Farms
and came home with a crate of peaches and nectarines too.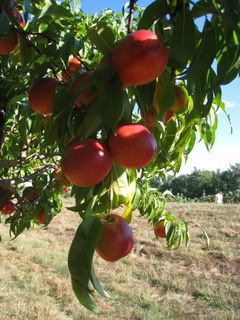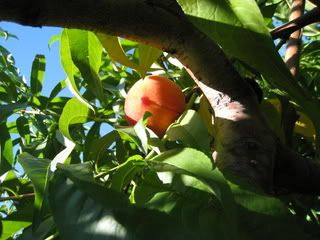 Here's my peach picking friend, Kiron, grabbing the peach tree by the balls, little joke there.
Anyway - what is a girl to do with all these peaches? Well, normally I would make peach pie. But this time I decided to be abnormal and make something different. I had so many peaches I wanted to make something that I could pack up nicely and give away to friends. After some searching around online and in my cookbooks, I found a recipe for Fresh Peach Muffins from Emeril Lagasse. I thought - perfect! I can make three dozen, give two and a half dozen away and keep the rest for breakfast for the hubs and myself. The muffins turned out pretty good however, the one thing I would add would be more peaches. There isn't enough peachy goodness in every single muffin bite. The dense batter is delicious though, tasting more like a poundcake than a traditional, airy breakfast muffin. Overall though, these were pretty successful and good alternative to the normal "peach" recipes. But like I said, next time I make them I will double the amount of peaches the recipe calls for. I also added two fresh vanilla beans to the batter - well the insides of the beans. I ordered a variety pack of Tahitian and bourbon vanilla beans online from the
The Organic Vanilla Bean Company
. I got these two packages of 20 bean pods for about $10, including shipping and handling.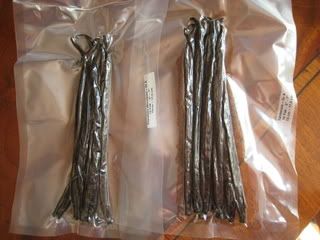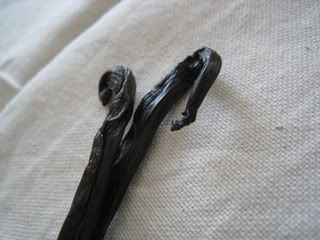 They smell divine and added really nice vanilla flavor to the muffins. I also used them in some peach ice cream I made that I'll hopefully be blogging about tomorrow after a test taste tonight! So if you have vanilla bean pods, throw a few of those in as well.
Fresh Peach Muffins with a Pecan Crumb Topping
Emeril Lagasse, Food Network Website
2 cups finely chopped fresh or frozen peaches
1 1/4 cups sugar, divided
1/2 cup (1 stick) butter, at room temperature
2 eggs
1 1/2 cups milk
4 cups flour
4 teaspoons baking powder
1 teaspoon salt
1/4 cup brown sugar
1/4 cup ground pecans
1/4 teaspoon ground cinnamon
4 tablespoons cold butter
Preheat the oven to 400 degrees F. Lightly Grease 24 (2 3/4-inch by 1 3/8-inch) muffin cups.
Place the peaches in a bowl and cover with 1/2 cup of the sugar. Mix thoroughly. Allow the peaches to sit for 1 hour.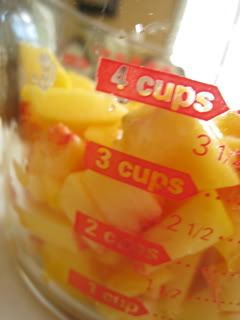 Using an electric mixer, fitted with a paddle, cream the butter and remaining 3/4 cup of sugar until smooth and pale in color, about 3 minutes. Add the eggs, one at a time, and beat until fluffy, about 2 minutes. In a mixing bowl, combine 3 1/2 cups of the flour, baking powder, and salt. Remove the bowl from the mixer and alternately fold in the milk and flour mixture, being careful not to over mix. Fold in the peaches. Spoon 1/4 cup of the filling into each prepared muffin cup.
In a small bowl, combine the remaining flour, brown sugar, pecans, and cinnamon. Mix well. Add the butter. Using your hands, mix until the mixture resembles coarse crumb like mixture.
Sprinkle 1 tablespoon of the crumb mixture over each muffin cup.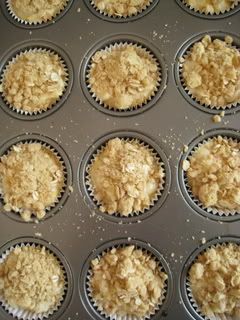 Place in the oven and bake for about 15 to 20 minutes or until golden brown. Serve warm with butter.
Watch these muffins work it for the camera...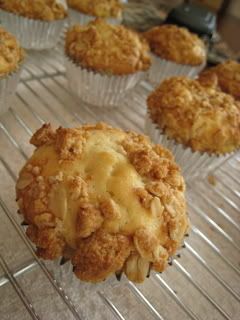 They're ready for their close-up. Come on - give me bold muffins!
Work it!! Work it!! You're in a bakery display case, make me want to buy you!
Muffins In Spaaaaace...don't these foil cups look like they are wearing space suits? No? Just me? Ok...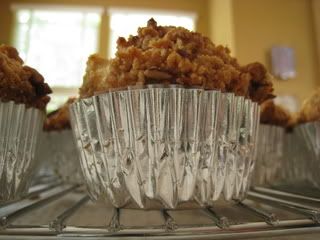 Open up to me muffins, show me what you're made of.
And I'm spent. And so was my executive chef apparently - totally exhausted after a long muffin shoot and a hot afternoon in front of the oven.