I just have to promote this tasty bread product that popped up in my local grocery store about a year or so ago. It's naan bread, the traditional Indian-style flatbread, and let's just say I'm in love.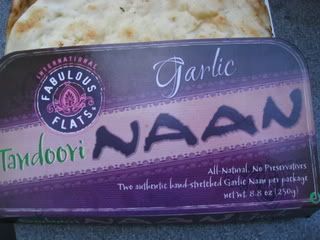 First of all, it's not only tasty, but perfect for dipping in anything - hummus, cheese spreads, guacamole, olive tapenade, sauces etc. And it's very easy to heat up on the grill or in the oven. In the summertime, I place it directly on the grill for about 8 to 10 minutes, flipping once. It become slightly charred and crispy and perfect for a quick appetizer.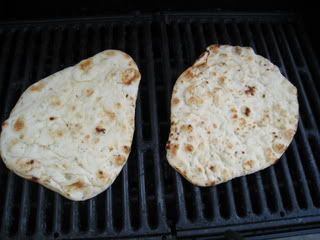 Just serve it with some olive oil or store-bought hummus. I'm not a big baker and I've never even attempted to bake my own bread. I used to help my mom make pizza dough sometimes as a kid and we had many no-rise doughs that sometimes really make you want to rip your hair out. I love that this bread tastes so fresh and homemade, and that it's quite light and airy. Sometimes bakery breads can be so dense and thick you feel like you might as well shove it down the back of your pants so much as eat it (Cause that's where it's going anyway in the end!!). So that's my product recommendation for the day. Oh and the garlic one is really good - it has real pieces of roasted garlic mixed in the dough.