So I seem to be on an Italian kick this week. Saturday we went to Cinghiale, Monday night we met friends at Teatro Goldoni for DC restaurant week and last night Daniel and I ventured out to Tosca, just the two of us, for a romantic, restaurant week dinner. Oh and then I made risotto on Sunday night!! It's not too obvious that I love Italian food - nah, no one can tell I'm sure.
Anyway, I'd been to Tosca on one other occasion a few years ago for my birthday. The food was, in a word, decadent. Rich pasta sauces, perfectly cooked meats and fish, an abundance of bread, creamy desserts. Tosca serves exemplary northern Italian cuisine and presents it in all its buttery, creamy, cheesy glory. There's no talk of low-fat here - and there's no shame over it either. Everything is fresh, homemade and, well, heavy - not that there's anything wrong with that though.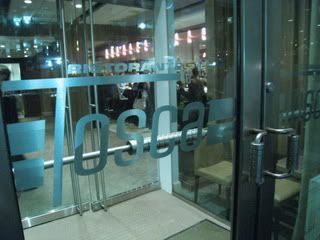 The most attractive thing about Tosca during restaurant week is they don't give you an undernourished "three option" menu (no offense to Teatro Goldoni - who meagerly offered a choice of one of two appetizers on a set menu, one of which was an eggplant and tomato popsicle served with basil gelatin, ahhhhh yeah that just sounds weird to me and not really very appetizing at all, and two choice of entrees, which were scallops and roasted baby pig - yeah, did I say odd cause it was, and NO choice of dessert, just one). Instead, at Tosca you can pick any two items on the menu and then a dessert from any of the ones they offer. Variety is not only the spice of life it is the best way to attract the most people during restaurant week. Teatro Goldoni was nearly empty - now I know why. Tosca, on the other hand, was turning over tables every half hour and bustling, as they well should be during this promotional week.
We had a reservation for 7 p.m. and were seated promptly when we arrived, which was a few minutes late thanks to that always predictable but never accounted for DC traffic. Our waiter pleasantly greeted us with what sounded like an Italian accent, explained the restaurant week deal and left us to ponder our choices and decide on a bottle of wine. The wine list was a bit daunting as most of the red wine choices are not less than $45 a bottle and many are ones I'd never heard of before. Fortunately, our waiter suggested a reasonably priced bottle that was very tasty and light.
In addition to the bread, they offer you a plate of marinated olives and thinly sliced sopressata. It was a nice way to start the meal, especially for me since I was starving after a flimsy lunch of pretzels and cheese. I was saving myself all day for the upcoming meal.
For an appetizer, you could choose from their list of starters or have a smaller portion of their pasta dishes. I chose the fried squash blossoms from the list of starters and my husband went with the veal and prosciutto ravioli. After getting my appetizer, which was beautifully presented, I wished I'd gone with a pasta instead. The squash blossoms were supposedly filled with mozzarella cheese and anchovies. I tasted nor saw either. Instead, they were quite greasy and battered a bit too heavily and tasted like, well, nothing. The ravioli were a much better choice. Thin, homemade pasta surrounded a tasty ground veal and prosciutto filling. They were topped with fresh shavings of parmigiano reggiano and a sage brown butter sauce. Woodsy, buttery and nutty all at the same time. If I could choose again, I'd have gone with the carrot papperdelle with rabbit ragu - it's apparently a specialty of the restaurant.
Dinner was fortunately much better than the squash blossoms. I opted for the pork tenderloin with a porcini mushroom crust, kale and brussel sprouts.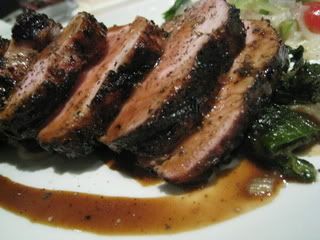 The pork was cooked perfectly at medium, leaving it juicy and tender. The porcini crust added a somewhat smoky flavor and the vegetables had been carefully appointed as well. I hate when you go to a restaurant and the vegetables are just boringly laid on the plate after being plainly boiled or steamed. The al dente brussel sprouts were fresh and paired with cherry tomatoes and buttered onions. The well-seasoned kale sat under the pork, slopping up it's natural juices to add to it's briny flavor. A very nice complement in all.
For Daniel, the eternal carnivore, he chose the New York strip steak with arugula and shaved parmigiano. Of course, both of us neglected to see the (add $10 for this item) note on the menu. But it was worth it.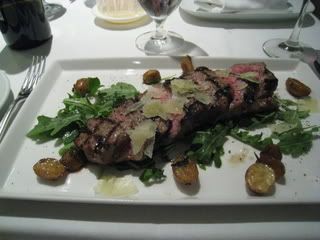 The meat was grilled perfectly. A little rare for my taste, but my husband likes to hear it mooing so he was happy. A simple preparation was all the meat needed, as the salty parmigiano and spicy arugula came together to bring out the natural flavor of the steak. It was served with the tiniest little caramelized potatoes. They were coated in fragrant olive oil and perfumed with fresh rosemary. There's no better combination than rosemary potatoes and grilled steak.
Finally, came dessert. Now, I'm not a big restaurant dessert eater. When it comes to desserts, I like things simple - brownies with ice cream, homemade cookies. I practically hate cake, can't stand pudding, and won't really get excited by tarts and the like. I love fruit pies and good cheesecake too, but those are few and far between at restaurants. I'd rather have more real food and skip dessert. But this isn't an option for the restaurant week special so, while it's tough, I gird my loins and suck it up - I get and eat dessert.
We chose the chocolate semifreddo with lemon gelato and the strawberry panna cotta with mint sauce. As I said, none of the options really appealed but those were recommended so we went with them.
The semifreddo was very chocolaty and dense - almost like a frozen chocolate mousse. The best part of it was the cooling lemon gelato on top.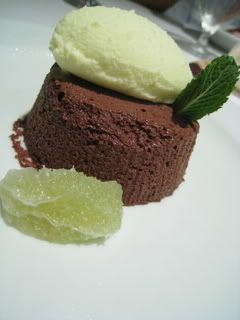 While it was good and not too sweet, on a normal visit I probably wouldn't order this again.
The panna cotta was even less impressive. I'm not a huge fan of mint, and neither is my husband, so the pool of mint syrup under the panna cotta was a turn off.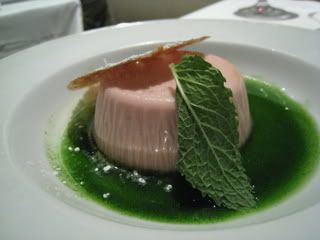 On top of that, I just don't like the texture of flans, panna cotta, creme brulee etc. so it wasn't my thing. My husband, who loves flan, also said it just wasn't that fabulous and didn't appreciate the strawberry flavor.
Despite the lackluster desserts, which may be more my problem than the restaurant's, the rest of the food was great. I wouldn't hesitate to return to Tosca - it's definitely an adventurous culinary experience. And I learned a new food fact as well! On many Italian menus, here and especially in Italy, you'll see "speck" listed as an ingredient. I always knew it was meat, similar to prosciutto, but never understood why they didn't just call it prosciutto. Apparently, it's not made in Italy so therefore it can't be called prosciutto so they call it speck. Go figure. I 'speck you just learned something too! :)