At least this girl does! I know I've said it before but I love Mexican food. I think it's a woman thing. All my girlfriends love Mexican food too. In fact, I think that should have been the name of Cyndi Lauper's song,"Girls Just Wanna Have Mexican Food" because honestly what is more fun than gorging on warm chips and salsa while sipping salty margaritas and gossiping mercilessly with your gal pals??
My husband on the other hand, isn't the biggest fan of Mexican food. And this bodes true for some of my friends spouses as well. But I think since being with me, Daniel has definitely gotten more used to it and eats it more now than ever before. The funny part is, he's half-Brazilian and always teases me saying, "You know I'm Brazilian, not Mexican, right?," since I've dragged him into so many Mexican joints since we started dating.
Nonetheless, I love to serve Mexican at home because you can keep it healthy, fresh and easy - and you can drink as many margaritas as you want. This dish was inspired by a stuffed poblano peppers recipe I saw in a magazine years ago. I added a lot of elements though, including the cilantro cream, and made it my own. You can definitely keep this vegetarian too if you so desire - just eliminate the meat. Or you can add chopped cooked shrimp instead if you're not a ground beef fan. Hopefully it inspires you to come up with a variation all your own! Enjoy!
Open-Faced Poblano Peppers with Cilantro Cream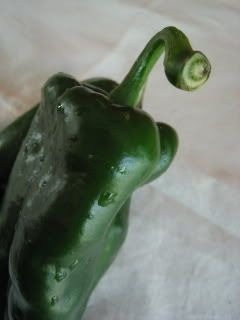 4 poblano peppers
2 cups cooked rice
1/2 pound ground beef
2 ears of corn, grilled and cut off the cob (or you can use a box of frozen corn)
1 15oz can black beans
3 tablespoons extra virgin olive oil
2 large tomatoes, chopped
1/2 onion, chopped
3 cloves of garlic, minced
2 jalapeno peppers, minced
2 tablespoons chili powder
1 tablespoon cumin
1/2 teaspoon allspice
juice of half a lime
1/4 cup chopped green onions
2 cups of shredded hot pepper monterey jack cheese (or any variety you prefer)
salt and pepper
Once you've washed your poblano peppers, cut a slit down one of the seams to form a pocket. Then cut across that slit to form an X and split your peppers so they lay almost flat and open face. Put them aside for now, you don't want to grill those babies up until your filling mixture is nearly complete. Otherwise, you'll have cold peppers.
In a small skillet, brown your ground beef till completely cooked and then drain.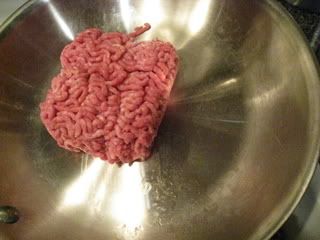 Set aside. In a larger skillet warm your olive oil over medium heat and throw in your tomatoes, onions, garlic and jalapeno peppers.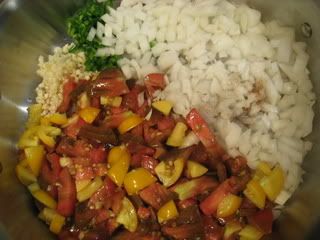 Now is a good time to start your poblanos on the grill. Simply lay the peppers on the hot grill grates and allow them to soften and char up - about 10-15 minutes over medium heat. They cook more evenly if laying nearly flat on the grill.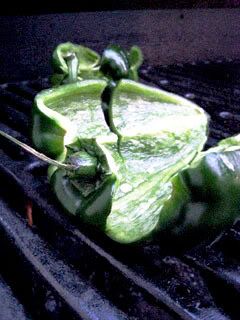 Once they are soft, remove them from the grill and set aside.
Meanwhile in your skillet, once your veggies start to expel some of their moisture into the pan and form a saucy consistency, add your spices and drained black beans to the mixture and stir.
Once the beans soften up a bit and start to absorb some of the liquid, throw in your beef, your cooked rice and your cooked corn.
Stir to warm everything and season with salt and pepper and squeeze your lime down over top of the dish.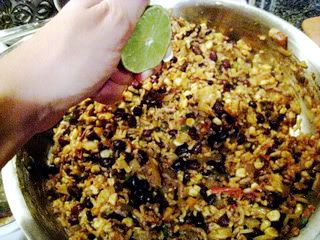 Take the pan off the heat and add your green onions, stirring it into your filling.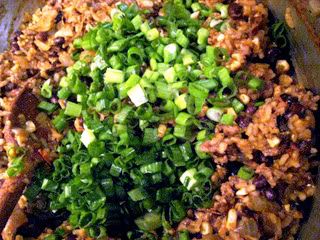 Now you're ready to plate - but do so on an oven-ready dish because you want to throw your peppers under the broiler to melt the cheese. So start your broiler. Arrange a good helping of the filling on top of each open faced pepper and then sprinkle about a 1/2 cup of your shredded cheese down on top.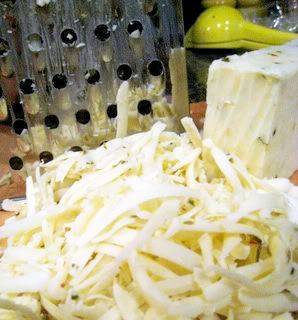 Place under the broil for 3 to 5 minutes just to melt your cheese. Once it's melted, remove and serve with a large dollop of your cilantro cream. It helps cut the heat from the poblanos and jalapenos.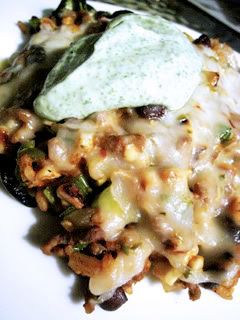 For the cilantro cream:
juice of half a lime
3/4 cup lite sour cream
a large handful of fresh cilantro leaves
sea salt
pepper
Place all the ingredients in your blender and mix.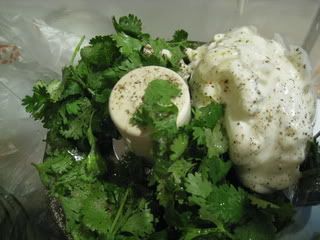 Season with salt and pepper and serve!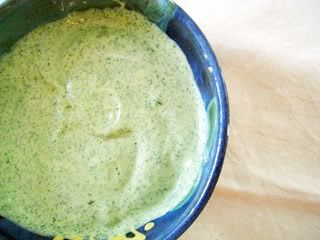 If you have a lot of leftover filling for any reason, you can easily make a Mexican meatloaf with it later in the week. Mix the filling with an egg or two, a handful of bread crumbs, form into a loaf and top with some jalapeno cheddar cheese slices and bake in the oven like you would a normal meatloaf. Top each piece with your cilantro cream and serve. See - very versatile!!