So to be honest, I'm kind of on the fence about turkey burgers. About two weeks ago, I bought a pound of dark ground turkey meat. I made some Mushroom Marsala turkey burgers and the taste of the meat was so strong my husband and I could barely eat them. In fact, we didn't. Sadly, I threw them away. It was a waste of some good Marsala mushrooms. Instead of giving up on turkey burgers, I decided to try the light or white ground turkey meat. I figured it wouldn't have such a strong, gamey like taste. Well, it didn't, but it still had a hint of that strong flavor.
I just don't understand why? I love turkey!! Roast turkey at Thanksgiving never has this flavor, neither does deli meat turkey - which I can eat like it's going out of style. So why does ground turkey have this strong, kind of off-putting taste? Has anyone else noticed this? Am I just buying the wrong kind of meat? Am I buying "bad" meat? I hope not! I bought both packages of ground turkey from Trader Joe's so I don't think it was poor quality meat. Who knows. I will say, I'm quite skeptical about trying turkey burgers again. I think I'll stick to regular old beef burgers.
Anyway, for this most recent turkey burger experiment I made a batch of
pesto
and mixed it up with the ground turkey meat. I then topped the burgers with provolone cheese and more pesto.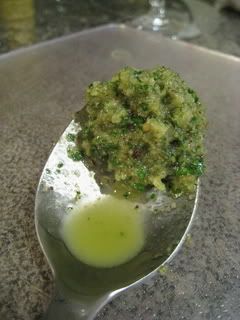 I found that we both had to keep piling on extra pesto to combat that strong irony flavor of the meat. Once we had enough pesto on there they actually tasted good, but that was probably because they tasted more like pesto and cheese than actual turkey meat.