Who knew brussel sprouts could be so sinfully delicious? These mini heads of cabbage when roasted up with pancetta, salt, garlic cloves, olive oil and a little onion are out of this world. People who always hated brussel sprouts, my mother included, now crave these little green jewels.
I know there are probably a thousand ways to prepare brussel sprouts, but this is undoubtedly my favorite. I don't really have measurements for these but I can kind of estimate what I do. Really it's just a matter of proportions - just enough garlic, olive oil and pancetta for however many sprouts you have so that the end result looks balanced and beautiful. Ok - beautiful may be a stretch for brussel sprouts but you get the picture. Here is my recipe. And, I have to add, my favorite part of this dish are the single green leaves that come unwound from the main sprout and crisp up almost like a potato chip in the oven. It's like the burnt cheese on top of macaroni and cheese - people will fight over it. Brussel Sprout chips? Maybe I've hit a new craze?? Nah probably not.
Roasted Brussel Sprouts with Pancetta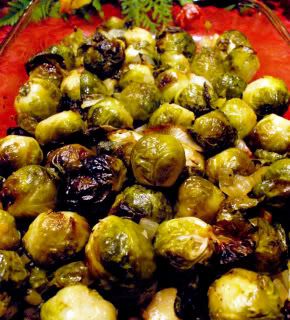 2 pounds brussel sprouts, bottoms trimmed off (I like to keep my heads whole because I find they stay a little firmer while roasting this way. Some people cut them in half and you can try both ways and see what you prefer.)
1 piece of pancetta sliced about 1 in. thick (ask at the deli counter for this)
6 cloves of garlic, peeled and just smashed (don't mince or chop - it burns too easily that way in the oven)
1/2 small vidalia onion sliced thinly
olive oil
salt
pepper
grated romano cheese for topping the hot sprouts as you plate them
Preheat your oven to 400. Once you've trimmed and washed your sprouts, put them in a large baking dish. Set aside.
Cube your piece of pancetta and brown in a small skillet until crispy. Remove the pancetta with a slotted spoon and sprinkle over your Brussel sprouts. Next, toss in your smashed garlic cloves with the sprouts, basically to do this just take a clove and put the broad side of your knife on top of it then pound down once hard with your hand and voila, smashed garlic.
Add your sliced onion, season generously with salt and pepper and get ready to toss everything with olive oil. You want the sprouts to have a light coating of olive oil - don't be too heavy handed or you'll get a greasy, oily mess. Start small and use more as you need it.
Place in your preheated oven, uncovered, and allow to cook for 35-40 minutes until the sprouts are tender but not mushy, tossing once or twice throughout the roasting process. They'll start to brown on the edges when they're done.
Serve hot and top with grated romano cheese. It adds a salty, nutty bite just perfect for the sprouts! Enjoy!