Hope everyone is celebrating with family and friends. I love Christmas! It makes me feel like a little kid again. As much as I complain all December about shopping and hassles and trying to do everything before Dec. 25, once it gets here it's all worth it.
This year I decided to do some homemade gifts. After seeing a recipe for homemade marshmallows and hot cocoa on
Good Things Catered
I figured, what the hell. I love marshmallows and hot chocolate and figured it was the perfect gift for friends. So I went to work. Here are the results!
The recipes can be found here:
25 Days of Treats
.
Homemade Marshmallows
These were much easier to make than I thought they would be, albeit a bit sticky. In the end though totally worth it because homemade marshmallows are so much lighter and fluffier than store bought. I really wasn't expecting much a difference so I was pleasantly surprised by the results.
You definitely need a candy thermometer for this one to measure the heat on your sugar mixture.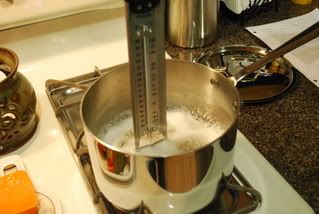 I'd say you also need a stand mixer - if possible. Because the gelatin mixture beats for a LONG time. I can't imagine holding a hand mixer that long.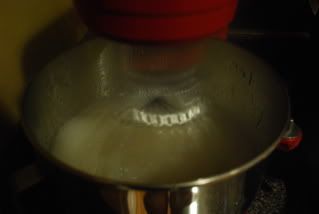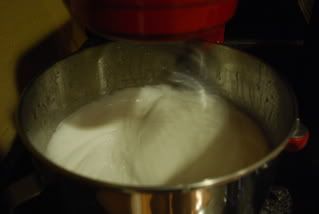 At the end of all this whir and blur you get a beautiful moutain of white fluffiness.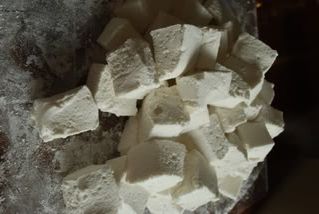 The hot cocoa recipe made enough for four gifts (about 1 cup of mix for each jar). This was perfect since I had four people to gift these goodies to.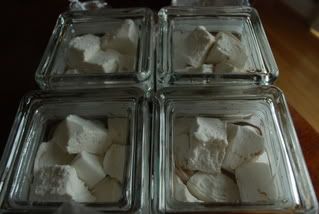 I packaged them in these great square jars - cocoa on the bottom, mallows on the top. I decorated with a ribbon and a label with serving instructions.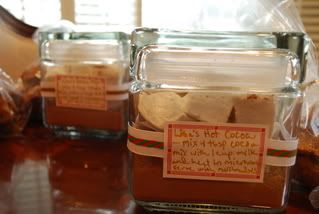 They were well received too and everyone was impressed that you could make homemade marshmallows!
I'll have lots of updates after our glorious Christmas dinner. It's a feast. The menu includes:
Appetizers:
Brie En Croute with Cherries and Pistachios
Steamed Shrimp
Smoked Salmon Dip
Crudite
Dinner:
Bacon-wrapped filet mignons
Steamed whole lobsters
Roasted Brussel Sprouts
Roasted Asparagus
Porcini Mushroom Risotto
Garlic Mashed Potatoes
Caesar Salad
Dessert:
A Red Velvet Cheesecake with Cream Cheese Icing (I can't wait to unveil this!!)
I hope you get a chance to sit back and relax today and take in everything that makes your life wonderful. I sure am. God bless and Merry Christmas to all!!