This isn't a groundbreaking recipe, but I was pretty satisfied with myself for coming up with this one by just glancing in my fridge and freezer. It was cold, raining and basically miserable outside. I was tired, wanted comfort food but didn't feel like having to go to the grocery store for anything. So I played the "What Can I Make?" game - basically me rummaging through my cabinets and fridge trying to figure out what I can combine into a meal. I then pose several possibilities to my husband who gives them "the face" or the thumbs up sign.
Fortunately, I had one frozen chicken breast, a package of frozen spinach and frozen pearl onions. I also had plenty of pasta on hand, cheese, milk and chicken stock. So voila - I give you Chicken and Spinach Alfredo! This hit the spot - warm, creamy, comforting and not too unhealthy. The best part was I didn't have to leave the house to make it. And most importantly, when I posed it to my husband he gave me the thumbs up. SCORE!! Did I mention how much I hate seeing the face when I post my possible cabinet meals? Not pretty.
Chicken and Spinach Alfredo
(this makes enough for 4 people - we ate leftovers for lunch the next day)
1 poached chicken breast, shredded (I poached mine in a half and half mix of chicken stock and water, flavored with fresh thyme, a bay leaf and salt and pepper)
3 tablespoons butter, softened
2 tablespoons flour
1 cup half and half
3/4 cup chicken stock
pinch of nutmeg
1 10 oz package of frozen chopped spinach, thawed and drained
1 cup of frozen pearl onions
1/2 cup gorgonzola cheese, crumbled
1/2 lb pasta (whatever shape you prefer works. I had spaghetti)
Set a stockpot full of salted water to boil Drop your pasta in, cook until al dente, drain and toss with a dollop of olive oil and set aside.
In a saucepan, melt the butter and then whisk in your flour to form a roux.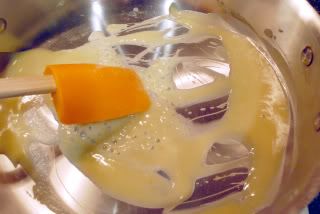 Cook over medium heat for 3 to 4 minutes to get the raw flavor out of the flour. Next, whisk in your half and half and chicken stock, along with a pinch of nutmeg.
Season lightly with salt and pepper and whisk together. Once the mixture begins to thicken, you can stir in your spinach and pearl onions. Bring the mixture back up to temperature (the frozen spinach and onions will reduce the temp).
Finally, mix in your shredded poached chicken.
Stir to coat. Mix in your crumbled gorgonzola cheese.
Now it's time for the pasta. Pour your pasta into the sauce and stir to combine.
Once the pasta has warmed in the sauce, serve in bowls and top with plenty of romano cheese. Enjoy!