It's so fun to stuff chicken breasts. I could do it all day long! Why? Because you could probably stuff over a hundred breasts and never repeat ingredients. There are so many possibilities and combinations. Just get creative. Talk about a crazy good time!!
That said, I can't take full credit for this particular stuffed chicken meal. I saw Rachael Ray use this combination of fig and fontina with chicken on her show.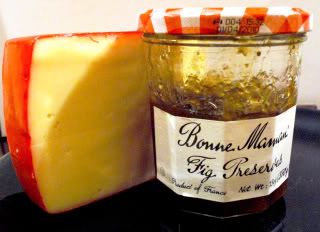 However, she wrapped grilled chicken breasts in phyllo dough along with a dollop of fig preserves and a slice of fontina cheese then baked them in the oven. So in essence, she was making a fancy version of a hot pocket. I figured this meal could be done much healthier by leaving out the greasy, buttery phyllo dough (even though I love it as much as the next girl), and just stuffing the chicken with some fig preserves and sliced fontina cheese. Fortuitously, I already had some fig preserves in my fridge, as well as two chicken breasts, so all I really needed to make this meal complete was the fontina.
I also picked up some fresh herbs to dress the chicken breasts with as well as a few things to make a tangy pan sauce to pour on top of the chicken. I figured a nice white wine herb Dijon sauce would help cut the richness and sweetness of the figs. I served this easy cheesy chicken with some steamed green beans tossed in olive oil and Parmesan cheese. Enjoy!
Fig & Fontina Stuffed Chicken with a Tangy Dijon Sauce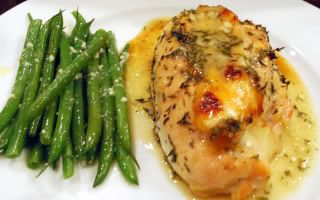 2 chicken breasts
4 slices of fontina cheese
4 tablespoons of fig preserves
6 sprigs of fresh thyme
2 sprigs of fresh rosemary
1 tablespoon olive oil
salt and pepper
For the pan sauce (these are all estimated measurements, I really just made this by taste and look):
2 cloves garlic, chopped
2 tablespoons butter
1 tablespoon olive oil
1/4 cup white wine
3/4 cup chicken stock
1 tablespoon Dijon mustard
chopped fresh herbs (I used rosemary and thyme)
pepper
Preheat the oven to 400. Rinse and pat dry your chicken breasts. Cut a slit in the middle of your breast and lay then in a baking dish. Stuff two slices of fontina cheese in each breast. Then spoon in two tablespoons of the fig preserves into the slit of each breast as well. Remove the leaves from your herbs and sprinkle them over the chicken breasts. Drizzle the breasts with olive oil and bake for 35 minutes or until the juices run clear from the chicken. If your cheese or preserves begin to burn you can lower the heat or cover your dish with foil.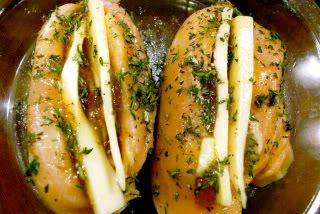 While the chicken is cooking, put a medium skillet over medium heat and throw in your chopped garlic, butter and olive oil. Cook until the garlic has softened then add your white wine. Let the wine cook off for about a minute or so and then add your chicken stock. All the mixture to come to a boil and reduce and thicken. Finally whisk in the Dijon mustard and some chopped fresh herbs.
Season with pepper and spoon over your cooked chicken breasts. If your pan sauce doesn't thicken, you can add a little cornstarch mixed with water.
Enjoy!