When I was a kid, fondue night was always a favorite of mine. I think it was because it really let me get involved in the cooking process. I could eat only what I wanted to cook in the pot and to watch it sizzle and bubble in the hot oil was like waiting for magic to happen. Then you fished your skewer out of the pot and hopefully had a half-way decently cooked piece of meat or fish on the other end. The fondue pot is still a fun and different way to serve dinner or a party appetizer. And it's not so retro anymore!
Not surprisingly, this food craze of the 70's seems to be back in full swing at modern-day parties! So get out your skewers and dust off those fondue pots. A cheese, chocolate or even meat fondue is a fun, social addition to any holiday party. You never know what can happen around a fondue pot! Friends are made, romances are ignited. Take a dip and see where it takes you.
This cheese fondue is a simple way to dive into fondue-ing. Enjoy!
Simple Cheese Fondue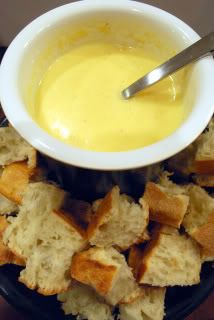 1 clove of garlic, smashed
1 tablespoon dijon mustard
1 cup of dry white wine
1/2 tablespoon cornstarch
1 generous cup grated fontina cheese
1/2 cup grated cheddar cheese
freshly ground black pepper
Take your garlic clove and rub it around the inside of a small sauce pan. Add in your white wine and bring to a simmer. Meanwhile, toss your grated cheeses together with your cornstarch so it is well distributed and covering your cheese. Once the wine is simmering, whisk in your dijon mustard, you cheese and sprinkle in some freshly ground pepper. Whisk until smooth and the mixture has thickened.
Transfer to a hot fondue pot and serve with bread, crackers, crudite, or mini-sausages or weiners.