If you're like me, you are always looking for new ways to prepare things like shrimp, chicken, fish filets etc. This was such an easy, delicious meal to make with a surprising combination of flavors. And if done right, in individual baking dishes (which I don't own) I think it would make an attractive, rustic course for a dinner party. The flavor was very unique - the combo of cinnamon, allspice and red pepper flakes makes it spicy, hot and a little sweet. I really wasn't sure how those spices would taste on the shrimp, but it was very good. It sort of reminded me of Indian food almost. You can keep it simple and serve this up with a green salad and some hot crusty bread for dipping. I plated it with roasted cauliflower and carrots to get some vegetables in the mix.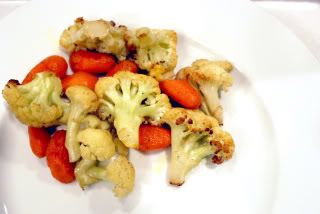 A great, light dinner that's quick to prepare and good for you too. What more could you want? Enjoy!
Greek-Spiced Baked Shrimp
From Gourmet Magazine, November 2008 issue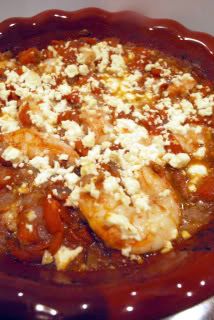 1 medium onion, chopped
2 garlic cloves, finely chopped
3 tbsp extra-virgin olive oil
1/2 tsp hot red-pepper flakes
1/2 tsp ground cinnamon
1/4 tsp allspice
1 28-oz can of whole tomatoes in juice, chopped
1 1/4 lb of large, peeled and deveined shrimp
pinch of sugar
2/3 cup feta cheese, crumbled
2 tbsp chopped dill (I omitted this because my husband hates dill)
Preheat oven to 375 degrees. Cook onion and garlic in oil with 1/4 tsp salt in a 4-qt heavy saucepan over medium heat until softened, about 5 minutes.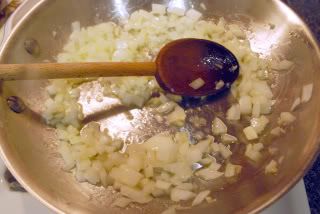 Stir in spices and cook, stiring, 30 seconds.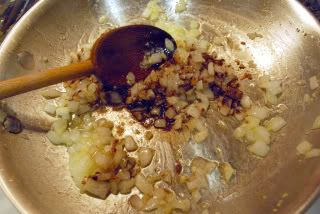 Add chopped tomatoes with juice and the pinch of sugar and simmer, uncovered, until slightly thickened.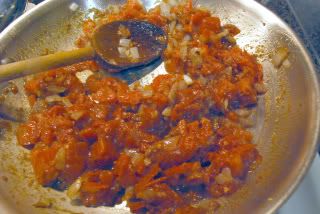 Stir occassionally. After about 20 minutes remove from heat.
Season shrimp with salt and pepper, stir into the tomato sauce. Transfer to a 2-qt shallow baking dish, top with feta. Bake until just cooked through - 18 to 20 minutes. Serve sprinkled with dill.