I saw this on
Home With Mandy's
blog. She always has great recipes with step by step directions. When I saw this, I knew I had to try it.
It begins with caramelizing the onions in a large pot and then adding in the beer, thyme and stock.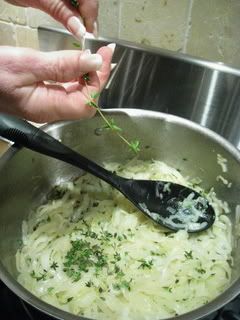 (Those are my mom's hands - she was very excited to be a hand model for this post)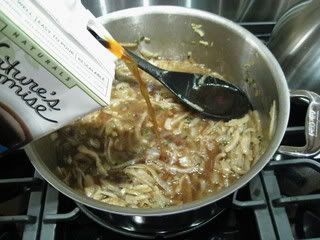 I've always wanted to make French Onion Soup but I liked that this was a bit of a twist on the old classic. It was delicious - perfect for a winter evening. The Guinness taste REALLY shines through so be aware of that. Easy to make though and even easier to eat with a cheesy melty topper.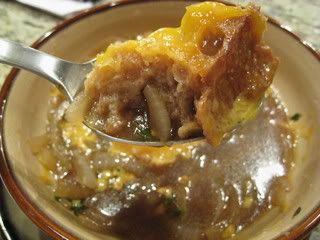 Enjoy!
Guinness and Onion Soup with an Irish Cheddar Crouton
www.foodnetwork.com, Michael Chiarello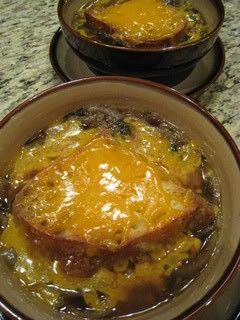 2 tablespoons extra-virgin olive oil
5 cloves minced garlic
8 cups thinly sliced onions
Gray salt
1 tablespoon fresh thyme leaves, chopped
1/4 cup sherry vinegar
1 1/2 cups dark beer (recommended: Guinness)
6 cups beef stock
6 slices country bread cut 1/2-inch thick, toasted
1/2 pound Irish Cheddar, sliced thin
Heat the olive oil in a large skillet over high heat. Add garlic and cook briefly to release aroma. Add onions, season with salt and cook for about 5 minutes stirring often. Reduce heat to low and cook for about 15 minutes, stirring occasionally until the onions are golden brown.
Add the thyme, vinegar, and beer. Reduce beer by half and add the beef stock. Bring to a simmer and cook for 10 more minutes.
Preheat the broiler. Transfer soup to an ovenproof serving dish or individual ovenproof soup bowls. Top with toasted bread slices and sliced Cheddar. Broil until cheese melts and starts to brown slightly. Serve piping hot.