This was last month's Barefoot Blogger's recipe number 2. Because of Thanksgiving I had no time to make this, but still was interested in trying it since I officially love all foods Mexican. On top of that, this was the perfect week for soup because after a fun holiday weekend in New York City I've developed a WICKEDLY NASTY head cold (ahhh thank you New Yorkers!). Therefore, the only thing on my mind besides Kleenex and sleep, is soup. So I mustered up whatever little energy I had on Tuesday and went to town on this soup. I had to go to the grocery store because our cupboards were bare after being away for the weekend. As I walked miserably through the aisles, eyeing cough medicine like candy, I finally left the grocery store to come home and start the soup. It wasn't long though, before I discovered that the onion for my soup that I bought and paid for wasn't anywhere to be found. I was too exhausted to go back to the store, so I silently cursed the bag boy (which wasn't nice I know, but I was irritable!) and then remembered I had a bag of frozen pearl onions in my freezer. So I substituted those for the chopped onion. All was right with the world.
Other than that one substitution, I pretty much followed this recipe verbatim. I did add a teaspoon of chili powder, along with the cumin and coriander and I halved the recipe and had enough soup to feed four people. But leftovers of this tasted even better the next day for lunch.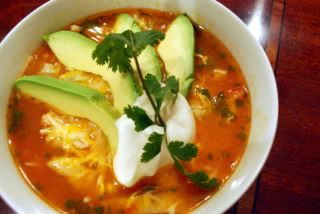 Despite the uphill battle it seemed to make this soup when you're sick, it was so worth it and really quite simple to prepare. Not only was it just downright good, it made me feel like a new person. Hot, salty, spicy and full of veggies. I can attest that there is definitely something to say for feeding a cold chicken soup. Delish! and Achooo! ...oh to be able to breathe normally again. Stay healthy folks!
Mexican Chicken Soup
Ina Garten, The Barefoot Contessa
(Just to note: You could easily make this vegetarian and sub a can of black beans for the chicken.)
4 split (2 whole) chicken breasts, bone in, skin on (I just used two regular chicken breasts)
Good olive oil
Kosher salt and freshly ground black pepper
2 cups chopped onions (2 onions)
1 cup chopped celery (2 stalks)
2 cups chopped carrots (4 carrots)
4 large cloves garlic, chopped
2 1/2 quarts chicken stock, preferably homemade
1 (28-ounce) can whole tomatoes in puree, crushed
2 to 4 jalapeno peppers, seeded and minced
1 teaspoon ground cumin
1 teaspoon ground coriander seed
1 teaspoon chili powder
My addition
1/4 to 1/2 cup chopped fresh cilantro leaves, optional
6 (6-inch) fresh white corn tortillas
For serving: sliced avocado, sour cream, grated Cheddar cheese, and tortilla chips
Preheat the oven to 350 degrees F.
Place the chicken breasts skin side up on a sheet pan. Rub with olive oil, sprinkle with salt and pepper, and roast for 35 to 40 minutes, until done.
When the chicken is cool enough to handle, discard the skin and bones, and shred the meat. Cover and set aside.
Meanwhile, heat 3 tablespoons of olive oil in a large pot or Dutch oven. Add the onions, celery, and carrots and cook over medium-low heat for 10 minutes, or until the onions start to brown.
Add the garlic and cook for 30 seconds.
Add the chicken stock, tomatoes with their puree, jalapenos, cumin, coriander, 1 teaspoon pepper, and the cilantro, if using.
(To grind my coriander I put the seeds in my mortar and pestle and crushed them up)
Cut the tortillas in 1/2.
Then cut them crosswise into 1/2-inch strips.
Add to the soup.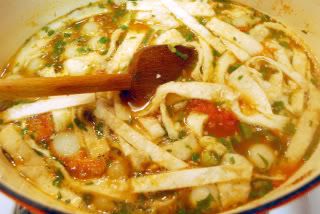 Bring the soup to a boil, then lower the heat and simmer for 25 minutes. Add the shredded chicken and season to taste.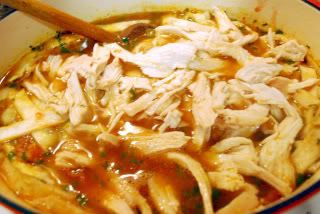 Serve the soup hot topped with sliced avocado, a dollop of sour cream, grated Cheddar cheese, and broken tortilla chips.