For some reason sweet potatoes aren't very popular on our Thanksgiving table. Only myself, my brother-in-law and sometimes my mom likes them. My husband, his sister, my brother and my dad aren't big fans. I can't understand it. I've never met a potato of any kind I didn't like and sweet potatoes are like the best of both worlds in one! It's a meal, it's dessert, it's filled with beta carotene, it's sweet and it's good for you!! I don't see the problem here. Oh well.
Either way, it never stops me from making something with sweet potatoes on Thanksgiving, since they are one of my favorite items on the table. I found this recipe on line at Food Network's website. I liked that it was simple, didn't involve adding a lot of sugar and was done gratin style, rather than mashed. I made one substitution, as I outline in the recipe below. They turned out very good, not too sweet, not too rich, just very comforting. Hope you give them a try!
Home Sweet Potato Home Au Gratin
adapted from www.foodnetwork.com, Robert Irvine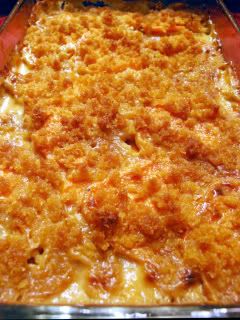 1 cup milk
1 pint (2 cups) heavy cream
1/4 teaspoon ground nutmeg
1/4 teaspoon ground cinnamon
1 teaspoon salt
1/4 teaspoon ground black pepper
3 pounds sweet potatoes (about 12 sweet potatoes, depending on size), peeled and sliced thin with a mandoline (I sliced mine by hand)
1 tablespoon chopped fresh parsley leaves
Gratin:
4 tablespoons butter, cut into chunks, plus more for baking dish
1/2 cup panko bread crumbs
1/4 cup grated Cheddar (I substituted a quarter cup of brown sugar because the thought of cheese and sweet potatoes was a little weird)
In a large saucepan combine milk, cream, nutmeg, cinnamon, salt, and pepper. Gently fold in sweet potatoes. Bring to a simmer and allow sauce to thicken.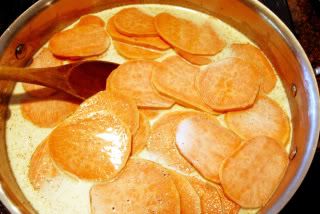 Preheat oven to 350 degrees F.
Butter a 3-quart baking dish. Combine the bread crumbs, butter and Cheddar (or brown sugar) to make the gratin topping. Transfer the potato mixture to the baking dish and sprinkle with the gratin topping. Bake until the potatoes are cooked through, about 35 to 45 minutes.
Serve in the baking dish, garnished with chopped parsley.